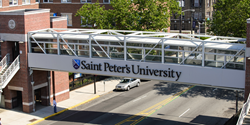 In a world where many are questioning the value of a college degree, this rank demonstrates that Saint Peter's is providing a true return on investment for our students
Jersey City, N.J. (PRWEB) May 06, 2015
Saint Peter's University is proud to announce that it is ranked among the top 67 colleges and universities in the nation and fourth in New Jersey in the category of "value-added alumni earnings" in a new report from the Brookings Metropolitan Policy Program. The report titled, "Beyond College Rankings, A Value Added Approach to Assessing Two- and Four-Year Schools," analyzes government and private data sources to rank colleges and universities on economic outcomes for graduates.
Saint Peter's received a score of 93 out of 100 in value-added with respect to mid-career earnings of the typical graduate of a bachelor's program. The University also scored in the top five percent in value-added for all alumni, including those who go on to pursue a graduate education.
According to Brookings, a college's value-added is the difference between the actual mid-career salary of alumni and an estimation of what a graduate from a similar school would have earned given his or her characteristics at time of admission. The study reported that the mid-career median salary for Saint Peter's graduates was 31% higher than the predicted salary. The value added contributions that Saint Peter's makes to its graduates includes factors such as curriculum value, alumni skills, graduation rates, and preparation to work in in science and technology fields.
"In a world where many are questioning the value of a college degree, this rank demonstrates that Saint Peter's is providing a true return on investment for our students," said Eugene J. Cornacchia, Ph.D., president of Saint Peter's University. "We take great pride in the results from the Brookings Institution report. The University's score validates the fact that Saint Peter's is a leader in ensuring our students reach graduation with less debt than their counterparts and go on to pursue successful careers."
According to the findings of the study, a typical Saint Peter's University graduate earns $21,000 more annually than the predicted mid-career salary. This amount was determined following an analysis of data collected through websites such as PayScale and LinkedIn. The study also identified and factored in five key elements that positively impact economic outcomes for alumni. These factors include curriculum value, alumni skills, STEM orientation, completion rates and the average level of student aid.
# # end # #
Saint Peter's University, inspired by its Jesuit, Catholic identity, commitment to individual attention and grounding in the liberal arts, educates a diverse community of learners in undergraduate, graduate, doctoral and professional programs to excel intellectually, lead ethically, serve compassionately and promote justice in our ever-changing urban and global environment.