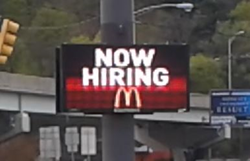 If you're going to get an electronic sign – you can't beat this.
Torrance, CA (PRWEB) May 06, 2015
Signtronix, the country's leading manufacturer of signs for small business, announces that it was recently chosen as the sign vendor of choice for a number of McDonald's locations in Pennsylvania.
The McDonald's franchisees currently own six McDonalds locations in Pennsylvania and chose Signtronix to place full color LED message signs at their Johnstown, PA & Somerset, PA locations to evaluate the signs.
Art Alamo, franchise owner of McDonald's said, "So far we've had some really good customer feedback regards to the images and people appreciate the signage and say it looks great. It's been very positive."
Tom Johnson, President of Signtronix exclaimed, "We are very excited about the partnership we with Art, Matt and their McDonald's locations. They've only had the signs up a short time and have seen very positive feedback and results from them. We are looking forward to helping them with signs are their other McDonald's locations."
Art said, "Everything worked out great. From the installation to the training to the follow up from Signtronix, everyone was easy to work with."
When asked about the quality and features of the sign, Art replied, "It's like watching a television outside. It's like watching a (McDonald's) commercial. These things really glow at night."
"I had another McDonald's operator call me after seeing our sign. I already referred him to Signtronix. You can't beat this. If you're going to get an electronic sign – you can't beat this," said Art.
To view the video testimonial of Art and Matt Alamo please go to: https://www.youtube.com/watch?v=kR29BQ6WhrE
About Signtronix
Signtronix (http://www.signtronix.com) is the premiere sign manufacturer for small businesses across the United States. The company was founded in 1959 and has helped over half a million customers in its 50 year history. Signtronix offers many different sign products from outdoor electric signs, LED messages signs and indoor and window signs to help America's small businesses get the exposure they need to their passing public and potential customers. Signtronix is proud to be an ESOP (employee stock ownership plan) company which is owned and operated by its employees. Join Signtronix on Facebook at http://www.facebook.com/signtronix or join us on Twitter at http://www.twitter.com/signtronix.
To learn more about Signtronix please contact Tom Johnson Jr. at trj2(at)signtronix(dot)com.