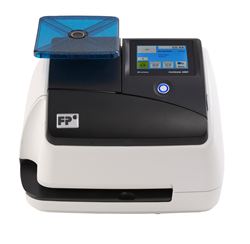 Addison, IL (PRWEB) May 08, 2015
ADDISON, Ill. –FP Mailing Solutions has just launched the PostBase Mini, the perfect postage meter for small businesses with light volume. "PostBase Mini is a critical piece of our future growth strategy. The Mini is the first USPS IMI approved postage meter, solidifying FP's commitment to offering the latest technology for mailroom customers," said Carl Amacker, CEO of FP Mailing Solutions. The PostBase Mini is a fast-operating, hand-fed postage meter providing users with flexibility and the following benefits:

First-of-its-kind intuitive touch screen
Whisper-quiet operation
USPS IMI-compliant
External 30/70lb scale capability
5lb integrated scale—five color personalities to choose from
"The PostBase Mini sports the first-of-its-kind color touch screen making setup and operations a breeze," said Kevin Pietras, Director of Marketing and Product Management for FP Mailing Solutions. This sleek and innovative new design brings the ideal entry-level mail solution to a new level. "The PostBase Mini's USPS IMI compliance, gives our customers the highest level of security," said Kevin. If you already understand the benefits of using a postage meter, you won't find a quieter, simpler, more secure meter in its class.
The PostBase Mini's easy-to-use features make processing mail simple and stress-free. Downloading postage and updating rates has never been easier. An Internet connection via a LAN line allows for a quick and seamless process. In addition, postal rate updates are included with the PostBase Mini.
FP will be introducing the PostBase Mini at this year's NPF show in Anaheim, CA. To get a closer look at all the PostBase Mini has to offer, be sure to visit us at booth 531.
FP Mailing Solutions is a leading postage meter and mail stream solutions provider offering a wide range of mail center products and services designed to create seamless mailing systems. The company is the fastest-growing mail machine and systems vendor in the U.S., backed by a mission of helping its customers work better, faster and more cost-effectively when it comes to their mailroom processes. To learn more about the PostBase Mini, visit http://www.fp-usa.com/postbase-mini/.