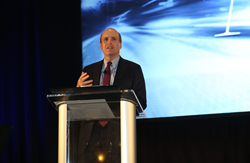 Fairfield and Litchfield Counties, Conn., Westchester County, N.Y., and Berkshires, Mass. (PRWEB) May 07, 2015
William Pitt and Julia B. Fee Sotheby's International Realty, the premier luxury real estate firm serving Connecticut's Fairfield County, Litchfield County and Shoreline markets, Berkshire County, Mass., and Westchester County, N.Y., announced that it recently held its annual company event. All agents company-wide were invited to attend the event, which included networking with fellow associates and key sponsors in the event's Vendor Alley, and presentations delivered by senior leaders as well as representatives from Neutrino Inc., the innovators behind the design of the firm's new luxury real estate website.
The theme of the event was "NEXT," chosen to reflect the company's confidence in using the unparalleled marketing reach, tools and networking strength of the Sotheby's International Realty brand to conquer everything that is coming next for the future of real estate.
"'NEXT' was an inspiring event for our company and our agents," said Paul Breunich, President and CEO of William Pitt and Julia B. Fee Sotheby's International Realty. "At the Vendor Alley, agents were able to gain referrals and foster connections with future business contacts, while at the same time, meet representatives from some of our key sponsors, where they gained valuable knowledge about new technology and marketing products. The presentations shared positive overviews of the past year, future initiatives, as well as many exciting company updates. When Neutrino came onto the stage, it was thrilling to see and feel all the positive energy surrounding the upcoming launch of our new website. The technology and innovation witnessed during the event was truly amazing, and I am eager and prepared for all that is next for this great brand."
In Neutrino's presentation, the creators of the new site themselves walked all attendees through the many features, redesigns, enhanced functions and advantages of the powerful and improved luxury real estate website.
Breunich discussed the current state of the company and the market, recent accomplishments, additions to the team, new initiatives for the coming year and a recap of the extensive progress the firm has made over recent years.
Additional presenters included President of Building and Land Technology (BLT) Paul J. Kuehner, who spoke about BLT's current projects in Stamford, Conn., and William Pitt and Julia B. Fee Sotheby's International Realty Chief Operating Officer Vin Socci.
"I was pleased to present the launch of our new luxury website alongside the masterminds behind the freshly designed, innovative site," said Socci. "Responses and feedback were tremendous, further verifying the benefits of holding an annual networking event, where agents and other members of our worldwide affiliate network can come together to share advice, contacts, resources, as well as learn about all that our company has to offer."
During the Vendor Alley and networking portion of the program, sponsors of the event hosted booths introducing agents to new technologies and available marketing products. Sponsors included diamond-level sponsor The Wall Street Journal; platinum-level sponsors Building and Land Technology, Citibank, Concierge Auctions, Connecticut MLS, The New York Times, Platinum HD, Pro Check Home Inspection Services, Spire and William Pitt/Julia B. Fee Insurance Services; gold-level sponsors Homeguard Environmental and WB Mason; and silver-level sponsors Avenue Magazine, Birgit Anich Staging & Interiors, Daily Voice, Findlay Luxury Moving, Floor Plan Online, Flying Point Media, Hearst Media Services, House Master, Lowen Sign Company, Lumentus, PlanOMatic, Regina Capitol Photo, Soundview Millworks, Tanks Be Gone, Tiger Home & Building Inspection, The Junkluggers, XpressDocs and Zillow. CT Challenge, a local non-profit organization, also had a table at the event.
"Next" was held on May 5, 2015 at the Hilton Stamford, located at One First Stamford Place in Stamford, Conn.
About William Pitt and Julia B. Fee Sotheby's International Realty
Founded in 1949, William Pitt and Julia B. Fee Sotheby's International Realty manages a $3.3-billion-plus portfolio with more than 1,000 sales associates in 26 brokerages spanning Connecticut, Massachusetts, and Westchester County, New York. William Pitt Sotheby's International Realty, combined with partner firm Julia B. Fee Sotheby's International Realty, is the largest Sotheby's International Realty(R) affiliate globally and the 28th-largest real estate company by sales volume in the United States. A full-service real estate firm headquartered in Stamford, Connecticut, William Pitt and Julia B. Fee Sotheby's International Realty provides ancillary services including commercial services through its affiliation with Building and Land Technology, a second-generation development company based in Stamford, Connecticut; William Pitt Insurance Services; and an award-winning global relocation division. For more information, visit the website at williampitt.com.
Sotheby's International Realty's worldwide network includes more than 16,570 sales associates located in 760 offices throughout 60 countries and territories.