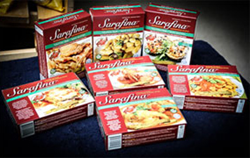 We are especially excited to offer delicious gluten-free options certified by the GFCP so we may provide consumers with a trusted and easily identifiable source of gluten-free products
Toronto, ON (PRWEB) May 08, 2015
The Gluten-Free Certification Program (GFCP) in partnership with the Canadian Celiac Association is pleased to announce that Sarafina Fine Foods Inc. gluten-free products have recently become certified by the GFCP in Canada. Sarafina's authentic Italian cabbage rolls, parmigiana, lasagna, manicotti, gnocchi, stuffed peppers and more are manufactured in a dedicated Gluten Free Facility, use the freshest organic ingredients, are non-GMO and recognized by Foodland Ontario. Sarafina is the only dedicated gluten free pastas manufacturer in Canada
"We care about your health concerns and don't want you to be limited in your meal options, which is why Sarafina has taken traditional Italian family recipes and married them with new age baking techniques to offer healthier meal alternatives. We are especially excited to offer delicious gluten-free options certified by the GFCP so we may provide consumers with a trusted and easily identifiable source of gluten-free products" says John Daniele, Vice-President of Sarafina Fine Foods Inc.
The Gluten-Free Certification Program is a voluntary program designed for manufacturers and brand owners committed to producing safe, reliable gluten-free products. The program combines stringent, risk-based gluten-free requirements with globally recognized food safety management systems, which exceed government requirements in both Canada and the United States. It is verified by an annual robust, third-party facility audit process which ensures continued compliance. Consumers can now shop with confidence across North America and know that the products they are purchasing meet the industry's strictest gluten-free requirements when they see the GFCP trademark.
"The Canadian Celiac Association believes that all Canadians have the right to safe food, and have designed the Gluten-Free Certification Program to meet these special needs" states Sue Newell, Operations Manager of the Canadian Celiac Association. "The CCA advocates on behalf of approximately 2,000,000 Canadians suffering from celiac disease and gluten sensitivity, who are frustrated by the uncertainty of identifying the gluten-free products that are essential to their well-being."
Paul Valder, President of the Allergen Control Group Inc. (ACG), the corporation that manages the GFCP states that "by displaying the GFCP trademark, Sarafina provides consumers with a trusted and easily identifiable source of gluten-free products without sacrificing taste, to aid consumers that have celiac disease, gluten sensitivity or are avoiding gluten for other reasons". Look for Sarafina products across Ontario at Metro, Sobey's, Fortino's, Whole Foods, Goodness Me, Farm Boy, Pusateri's, Coppa's, Fiesta Farms, Lady York, McEwan's, Yummy Market, Planet Organic, Marilu's, The Garden Basket, Harvest Wagon, Kelly's Nutrition Center, Rainbow Foods, Nich Market and Les Glutineries.
About Sarafina Fine Foods Inc.
Sarafina has taken traditional Italian family recipes and married them with new age baking techniques to offer healthier meal alternatives. Our All Natural Gluten Free pizza's offer some the most unique crusts and premium toppings. Our Gluten Free dinner entrees are from Organic, and non-gmo ingredients. Sarafina products maintain the taste and flavour of Nonna Sarafina's cooking! http://www.sarafinapizza.com
About the Allergen Control Group Inc. (ACG)
The Allergen Control Group Inc. is a privately held corporation which owns and operates the Gluten-Free Certification Program on a global basis and is endorsed exclusively by the CCA in Canada and the NFCA in the USA. http://www.glutenfreecert.com
About the Canadian Celiac Association (CCA)
The Canadian Celiac Association is the national voice for people who are adversely affected by gluten, and is dedicated to improving diagnosis and quality of life. Based in Mississauga, Ontario with 28 Chapters across the country, its mission includes advocacy, education, research and community support. http://www.celiac.ca