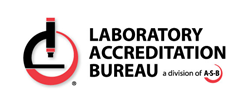 (PRWEB) May 10, 2015
World Accreditation Day as a global initiative, jointly established by the International Accreditation Forum (IAF) and the International Laboratory Accreditation Cooperation (ILAC), to raise awareness of the importance of accreditation. This year's theme focuses on how accreditation can support the delivery of health and social care. L-A-B would like to invite you to attend our celebration to raise awareness on the importance of data. You will have a chance to mingle with L-A-B staff & network with others who have an interest in the importance of data. Food and beverages will be provided. Be entered to win door prizes!
Please use the link http://whoozin.com/YFF-9WC-T433 to see additional information regarding the event and to RSVP. L-A-B asks that you RSVP by May 31, 2015.
L-A-B, as a division of A-S-B, is a recognized accreditation body, dedicating itself to continually:

Providing service for our client's needs
Improving the quality of laboratories and the services they provide
Increasing the acceptance of accredited laboratories worldwide
Complying with ISO/IEC 17011
Accreditation Services Bureau (A-S-B) is a nationally and internationally recognized, nongovernmental, independent, limited liability company. A-S-B operates a voluntary accreditation division (L-A-B) to accredit calibration and testing laboratories. L-A-B is utilized by regulators and specifiers for the delivery of ISO/IEC 17025 accreditation in conjunction with sector specific/regulatory requirements.
Laboratory Accreditation Bureau (L-A-B) is the A-S-B division that accredits testing and calibration laboratories. L-A-B is a multi-service laboratory accreditation division covering many different fields with related disciplines. The laboratory accreditation division is specified by regulators and specifiers for the delivery of ISO/IEC 17025 accreditation. The divisional responsibilities include field sampling and measurement organizations (FSMO) accreditation.
CONTACT: Pat Douglass, Laboratory Accreditation Bureau, 1-260-637-2705, pdouglass(at)l-a-b(dot)com
SOURCE: L-A-B, Laboratory Accreditation Bureau, Fort Wayne, IN