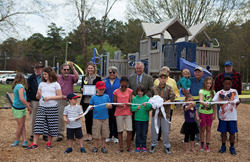 We are so pleased that this community has taken a leadership position by integrating outdoor adult fitness equipment.
MATHEWS COUNTY, VA (PRWEB) May 11, 2015
"Follow me...slide down this way…Yippee!" are just a few of the sounds that could be heard at the grand opening ceremony of the new BigToys playground and fitness equipment installed at Port Fun Park, in Mathews County.
Featuring six diverse outdoor fitness products that provide the four elements of a balanced fitness program, the recreation area gives parents, grandparents, and caregivers the opportunity to exercise while they supervise their children as they enjoy the adjacent playground equipment.
As a testament to Port Fun's commitment to their community, the new installation has been recognized as a National Demonstration Site for Outdoor Fitness. This important designation was awarded by PlayCore, a Chattanooga, Tennessee-based company that helps build healthier communities around the world by advancing play and fitness through research, programs, and partnerships.
This joint use adult fitness/children's playground replaces a previous BigToys playground that was originally established in 1994. "Our children were young and there wasn't a local playground in the community. We raised money for 3 years before we could build," said Janice Towne and Cindy Machen, two mothers who were vice chairpersons of the original playground installation. "20 years later we are so glad that BigToys is back installing our new playground."
Lindsay Richardson, Senior Vice President for BigToys, a PlayCore company, was on hand to present the National Demonstration Site award. "We are so pleased that this community has taken a leadership position by integrating outdoor adult fitness equipment alongside their new playground to provide healthy choices for their community" said Richardson. Bliss Products of Virginia installed the new playground, and their representative, Kelly Robinson, was also in attendance.
National Demonstration sites recognize leadership in design and community capital by promoting awareness through press, site recognition, nationwide presentations, and online promotion. Communities receiving the award have demonstrated their dedication to promoting outdoor fitness as a critical health solution for increasing physical activity and social engagement through thoughtful design, community involvement, and activism.
PlayCore's database of National Demonstration Sites for Outdoor Fitness can be viewed at fitness.playcore.com. Visitors to the site can present their own fitness grounds or learn how to establish an outdoor fitness park in their community.
About BigToys
For more than 40 years, BigToys has been dedicated to designing commercial playgrounds that foster imagination, preserve the environment, and build strong communities. Our commitment to these values has made us an industry leader in providing developmentally appropriate and engaging play experiences for kids around the world. Learn more at http://www.bigtoys.com
About PlayCore
PlayCore helps build stronger communities around the world by advancing play through research, education, and partnerships. The company infuses this learning into its complete family of brands. PlayCore combines best-in-class planning and education programs with the most comprehensive array of recreation products available to create play solutions that match the unique needs of each community they serve. Learn more at http://www.playcore.com