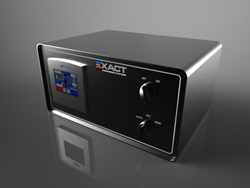 (PRWEB) May 11, 2015
EXACT Dispensing Systems is proud to announce the release of the new EXACT Control (EC).
The EC is available on most EXACT meter-mix and boasts wide capability including 20 individual programmable presets ("shots") for automated shot-size precision. Each shot can be adjusted, named, stored and selected using the EC's full color touch screen HMI. In addition, the EC can monitor material usage, cylinder position, dispense valve status, and more. It's expandable features can control or monitor heat zones, temperatures, supply levels and automated mixer purge. Each aspect is beautifully presented with color graphics and audible/visual alarms and includes the option of password "lock" to prevent tampering at numerous levels. All of this and more at your fingertips in one control!
To learn more about the new EXACT Control Console, call us at 207.563.2299 and ask how it can help with your Meter-Mix Dispensing needs!
About EXACT Dispensing Systems
EXACT Dispensing Systems, a TASI Group company, is a leading manufacturer of high quality equipment for the dispensing of single-component fluids and plural-component reactive resins such as epoxies, urethanes, and silicones. For more than thirty years, EXACT has designed and manufactured both standard and custom dispensing solutions for customers in the Americas, Europe and Asia. For more information, please contact Ashley Zezza, Marketing Coordinator, at azezza(at)exactdispensing(dot)com, or visit EXACT's website at http://www.exactdispensing.com.
About the TASI Group
The TASI Group of Companies is comprised of three technologically advanced Strategic Business Segments commonly linked by a disciplined focus on Test, Inspection and Measurement. TASI provides advanced test and inspection instrumentation & systems, flow meters and flow control products, measurement instrumentation and automated assembly and test systems. Major Markets include: Automotive, Medical Devices, Life Science, Pharmaceutical, Packaging, Oil & Gas, Food & Beverage, Consumer Goods and General Industrial Equipment.