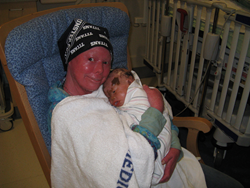 "As our audience has grown to include more families affected by ichthyosis, it made sense to take the benefit concert directly to their communities." - Tracie Pretak, member of FIRST Board of Directors
Colmar, PA (PRWEB) May 11, 2015
The Release the Butterfly Benefit Concert, which has been performed in Johnsonburg, PA, for the past 15 years, will be kicking off a "concert tour" on Saturday, May 30 at 6:00 PM at the Capital Area Christian Church at 1775 Lambs Gap Road, Mechanicsburg, PA. The Pretak, Saylor and Steinitz families, all affected by ichthyosis, a rare skin disorder, have united to produce a multi-purpose event. The concert will include inspirational performances by vocalists, instrumentalists and dancers, as well as a talk-show style Q&A segment about ichthyosis and FIRST.
Tracie Pretak, mother of Bailey Pretak affected with autosomal recessive congenital ichthyosis (ARCI), also known as lamellar ichthyosis (LI), said, "We have been performing the concert in Johnsonburg and surrounding communities for over 15 years. As our audience has grown to include more and more affected families, it made sense to take it on the road and share it with their communities."
Mark and Nicole Saylor of New Cumberland have adopted a baby boy affected with the rarest form of the condition, harlequin ichthyosis (HI). They will be joined by Hunter Steinitz of Pittsburgh, an adult also affected with HI. The concert will feature more than 20 performers from Harrisburg, Pittsburgh, Philadelphia, Lancaster, northwestern PA and Maryland. A free-will offering will be taken to benefit FIRST.
Ichthyosis is a family of genetic skin disorders characterized by dry, cracked, scaling skin that may be thickened or very thin. Each year, more than 16,000 babies are born with some form of ichthyosis. A recent study has determined that approximately 300 babies are born in the US each year with a moderate to severe form of ichthyosis. Ichthyosis affects people of all ages, races and gender. It can present medical complications such as dehydration, infections, chronic blistering, overheating, and rapid-calorie loss.
"There is no known cure for ichthyosis, only treatments," said Jean Pickford, CEO of FIRST.
About the Foundation for Ichthyosis & Related Skin Types, Inc.®
The Foundation for Ichthyosis & Related Skin Types, Inc.® (FIRST) is the global leading advocacy group dedicated to families affected by ichthyosis and related skin types. FIRST's mission is to improve lives and seek cures for those affected by ichthyosis and related skin types. The foundation has supported more than $1.6 million in research funding for better treatments and eventual cures. For more information, call toll-free at 1.800.545.3286 or visit http://www.firstskinfoundation.org