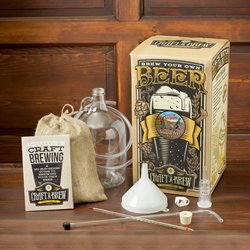 Our company's mission is to turn craft beer drinkers into home brewers, and what better week to start your home brewing journey than on the biggest craft beer week of the year
Orlando, FL (PRWEB) May 11, 2015
In celebration of American Craft Beer Week, May 11-17, Craft A Brew (http://www.craftabrew.com), maker of high-quality, small batch home beer brewing kits will be offering a series of giveaways of their home brewing kits, as well as exclusive discounts on their products. The giveaways will be announced on their Facebook page all throughout American Craft Beer Week, along with updates on ACBW events, craft beer recommendations, home brewing tips and more resources for craft beer and home brewing enthusiasts.
Among the home beer making kits that fans will have a shot at winning will be their newly-released Gluten Free Amber Ale home brewing kit. This kit was developed to offer an easy yet high quality home brewing experience and great-tasting gluten free beer to craft beer fans who are gluten intolerant.
"There's such an unmet demand in the craft beer industry for gluten free beer that actually tastes good, and while more breweries are starting to offer gluten free beers, there wasn't really much out there for those with a gluten intolerance who wanted to brew their own," said Kyle Westfall, owner and master brewer at Craft A Brew. "We developed our Gluten Free Amber Ale with the same attention to quality and craft that we've brought to all of our recipes."
Westfall, a craft beer enthusiast himself, started Craft A Brew when he was just a year out of college and found himself searching for a high quality beer brewing kit that he could make in his apartment, which didn't cost a fortune. He found that the only small-batch, affordable home brewing kits lacked the high quality ingredients and thoughtful recipes that he needed to produce a good beer. He had a feeling he wasn't the only one who felt this way, and so Craft A Brew was born with the mission to provide an affordable but high-quality home brewing experience to others who had a passion for good beer. American Craft Beer Week seemed to him like the perfect occasion to inspire other craft beer lovers to try their hand at brewing.
"We are excited to offer some fun giveaways of our kits, as well as some good discounts on all our home brewing products for American Craft Beer Week," said Westfall. "Our company's mission is to turn craft beer drinkers into home brewers, and what better week to start your home brewing journey than on the biggest craft beer week of the year."
Craft A Brew's American Craft Beer Week giveaways will begin May 11 and run through May 17th, 2015. They will be announced on their Facebook Page (https://www.facebook.com/CraftaBrew), and craft beer enthusiasts are encouraged to follow them for giveaways, exclusive discounts and ACBW announcements. To purchase a home beer brewing kit, visit their website http://www.craftabrew.com.