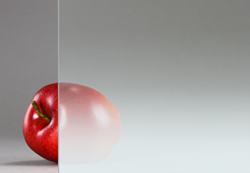 (PRWEB) May 12, 2015
Bendheim has added two new glass options, Ultra-White Laminated Fade® and Low-Iron Etched Fade®, to its line of decorative architectural glass. The new, gently fading glass designs present an elegant, timeless aesthetic, defining interior spaces when used in partitions, doors and windows, atriums, and staircases.
The superior fade effect of Bendheim's Ultra-White Laminated Fade® glass is produced through a unique ink technology. Ultra-dense and brilliant white at the bottom, the glass smoothly fades to clear at the top. The durable, maintenance-friendly laminated safety glass is available in sizes up to 60"W x 120"H and thicknesses up to ¾".
Bendheim's new Low-Iron (ultra-clear) Etched Fade® glass is fully etched up to approx. 52" from the bottom of the sheet, then gently fades to clear as it approaches the top. The durable, stain-resistant, satin-smooth etched glass is available in safety (tempered and/or laminated) form, in sizes up to 86" W x 124" H and thicknesses up to ⅜".
The superior gradient effect now available through these new architectural glass varieties elevates interiors, projects a sense of openness, and delivers daylighting advantages while maintaining the right amount of privacy. Glass sheets can be custom-cut at the top and/or bottom to reposition the fade up or down within the panel. Fully custom fade configurations are also available on request.
To learn more about Bendheim decorative architectural glass, please visit http://www.BendheimArchitectural.com.