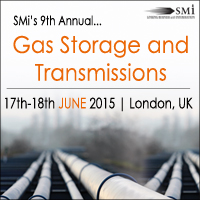 London, UK (PRWEB UK) 13 May 2015
European Commission Vice-President, Maros Sefcovic, announced that he aims to conclude talks with Ukraine and Russia by summer to ensure security of gas supply in Europe for next winter (Reuters, 2015).
Building on this, SMi is pleased to have Oliver Koch, Deputy Head of Unit, Unit of Security of Supply from the European Commission speaking at SMi's 9th annual Gas Storage and Transmissions conference taking place on 17-18 June in London, UK.
In his highly topical address, he will discuss the reform of the EU security of supply framework by giving an in-depth overview of EU gas storage regulation and answer the questions what is the role for gas storage and how do we come to more cross-border cooperation?
Ukraine has been the transit route for approximately half of the gas pumped by Russia and distributed throughout the European Union and it has been locked in a pricing dispute with Gazprom that resulted in a supply cut-off to Kiev last year.
This unique event will provide attendees with an information packed agenda looking at the current state of the European gas market and security of supply, gas transmission and how gas storage will contribute to future demand, new commission regulations, the flexibility of the UK market, south stream and more.
To view the conference brochure please visit: For more information or to register visit http://www.smi-online.co.uk/2015gasstorage35.asp
Reasons to attend:
This year's conference programme includes:
19 presentations, 1 panel discussion & 1 interactive workshop
This two day event will also provide attendees with the perfect opportunity to gain an overview of the industry in Europe and the UK as well as create a common voice for future progression:

Discuss the current state of the European Market and security of supply
Deliberate the continued concerns in Eastern Europe
Understand the new EU regulations and new network codes
Hear the latest developments for European and UK gas storage operators
Create a common platform for the industry to reform and move forward together
Scrutinise gas transmission systems and how they can support the European markets
Key speakers from this year's programme include:
Alan McFadden, Head of Gas Storage - Commercial, SSE
Andrew Stacy, Director, Stag Energy
Geoffroy Hureau, General Secretary, CEDIGAZ
Craig Dyke, Gas Network Development, National Grid Plc
Mike Madden, Managing Director, MJM Energy
Michael Kohl, Commercial Managing Director, RWE Energie AG
Piotr Kus, Director, Gas Transmission Operator, GAZ-SYSTEM S.A.
Vytautas Ruolia, Commercial Director, Amber Grid
Hans-Age Nielsen, Gas Market Development, Energinet.dk
Keith Budinger, Chief Executive, Halite Energy Group
Attendees of Last Year's Event Included:
AXIS PED Ltd, CEDIGAZ, Centrica, Energinet.dk, Energy and Utilities Alliance (EUA), Enovos Luxembourg, ENTSOG, G&G International nv, Gas Storage Bergermeer, Gasunie Zuidwending, Geostock, Green Frog Energy, Halite Energy Group, Hydrodynamics, Hydromer Energy Limited, ICIS, Institute Of Materials, Minerals and Mining, Interfax Europe, KYOS Energy Consulting, LNG Shipping News, MAN Diesel & Turbo UK Ltd, MJM Energy, Nafta, National Grid Plc, Platts, RWE Gas Storage, Scotiabank, Shell Energy Europe Ltd, SolTech Projects Inc, SSE, Storengy UK, Tata Chemicals, Wingas Storage UK Ltd
For more information or to register visit http://www.smi-online.co.uk/2015gasstorage35.asp
To register as a delegate, please contact Andrew Gibbons on +44 (0) 207 827 6156 or agibbons(at)smi-online(dot)co(dot)uk