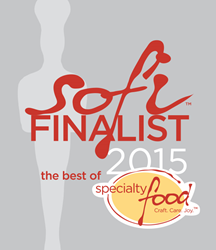 We created this category in 2003 and the signature taste, texture and quality of our crisps relies on baking them the old fashioned way
SYOSSET, NY (PRWEB) May 13, 2015
Kitchen Table Bakers 100% Aged Parmesan Jalapeño Crisps made the 2015 finalist list for Outstanding Savory Snack in the Specialty Food Association's 2015 sofi™ Award competition.
A sofi is the top honor in the $109 billion specialty food industry. The word "sofi" stands for Specialty Outstanding Food Innovation and represents the best the Specialty Food Association Members have to offer.
The 100% Aged Parmesan Jalapeño Crisps were one of 125 Finalists selected by a national panel of specialty food experts from 2,715 entries across 32 Awards categories including Outstanding Chocolate, Cheese, and Savory Snack. Winners will be announced June 29, 2015, by Ted Allen, host of Food Network's Chopped, at a red-carpet ceremony at the Summer Fancy Food Show in New York City.
"We are honored to be recognized as a sofi award finalist," said Seth Novick, Vice President of Kitchen Table Bakers. "We created this category in 2003 and the signature taste, texture and quality of our crisps relies on baking them the old fashioned way – it's a slower, more complicated process," he adds, "but it's the only way to make Kitchen Table Bakers Parmesan crisps safe for our family and for our family of retailers, foodies and those on restricted diets."
"This year's finalists represent a devotion to excellence and innovation in specialty food that continues to fuel our industry," says Specialty Food Association President Ann Daw.
For more information about Kitchen Table Bakers and to taste the new Parm Crisps, please visit Booth #877 at the Specialty Food Association's Summer Fancy Food Show in New York City, June 28 to June 30, 2015. To learn more about Kitchen Table Bakers, please visit http://www.kitchentablebakerscom and http://www.facebook.com/kitchentablebakers.
# # #
About Kitchen Table Bakers
Kitchen Table Bakers, founded in 2003, crafts eleven varieties of gourmet Parmesan cheese crisps, including Aged Parmesan, Chia Seed Parmesan, Caraway Seed Parmesan, Sesame Parmesan, Rosemary Parmesan, Italian Herb Parmesan, Garlic Parmesan, Jalapeno Parmesan, Basil Pesto, Parmesan, Everything Parmesan, and Aged Parmesan Mini Crisps. All Kitchen Table Bakers products are gluten, wheat and sugar free. The company's products have been recognized by the Specialty Food Association with six silver sofi awards and four gold sofi awards, which acknowledge the best food and beverages the specialty food trade has to offer. To learn more, visit http://www.kitchentablebakers.com.