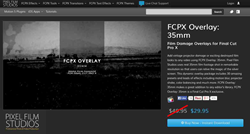 With FCPX Overlay 35mm users can manipulate effects with ease and expertise.
Aliso Viejo, CA (PRWEB) May 15, 2015
Pixel Film Studios uses real 35mm film footage shot in remarkable resolution so that users can relive the magic of the silver screen. This dynamic overlay package includes 30 amazing presets and loads of effects. FCPX Overlay 35mm makes a great addition to any editor's library that is exclusive to FCPX.
FCPX Overlay 35mm is shot in 5K resolution using high-quality sensors and real 35mm film damage. Choose overlays ranging from the subtly damaged to film that is absolutely destroyed as wells adjust blend styles that can can give users further customization and fine tune stylizations.
Using the simple sliders provided in FCPX Overlay 35mm users can manipulate effects with ease and expertise. Give an old-school projector feel to any overlay clip by adjusting the shake sliders located at the bottom of the control rig.
"Final Cut Pro X is lacking some essential plugins. We intend to satisfy the needs of fans of FCPX around the world and get them what they need," said Christina Austin - CEO of Pixel Film Studios.
As an FCPX title, this tool can be dragged-and-dropped onto the timeline over footage, or a still image. Users can now make adjustments to the title layer which will now affect the underlying layers. FCPX Overlay 35mm also contains easy-to-use controls built into the Final Cut Pro X Inspector that allow users to customize their overlays quickly.
Pricing and Availability:
The Pixel Film Studios Plug-ins are available today through the Pixel Film Studios website starting at $29.95 USD. For more information, please visit the Pixel Film Studios website.
Established in 2006, Aliso Viejo, California-based Pixel Film Studios is an innovative developer of visual effects tools for the post-production and broadcast community. Their products are integrated with popular non-linear editing and compositing products from Apple FCPX. All Apple, the Apple logo, Mac OS X, and Macintosh are registered trademarks of Apple Inc. in the U.S. and/or other countries. All other trademarks and trade names are the property of their respective owners.