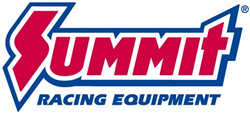 Tallmadge, OH (PRWEB) May 16, 2015
Edelbrock's Performer Dual Quad Air-Gap Manifolds for Chrysler's 426-572 Hemi make power from 2,500 to 6,500 RPM. They feature Edelbrock's Air-Gap design that creates an air pocket under the plenum and runners to keep the incoming air and fuel cooler and denser, which helps improve power production.
Carburetor spacing and height are the same as the Mopar Performance dual-quad intake, making the Edelbrock manifolds compatible with factory shaker hoods. They also retain the OEM carburetor linkage location.
The Edelbrock Performer Dual Quad Air-Gap intake manifolds are available for use with squarebore carburetors or throttle body fuel injection. They will work with factory style cylinder heads, but are optimized for use with Edelbrock's Victor Jr. Hemi cylinder heads. Edelbrock Coil Bracket EDL-8079 is required if using an OEM-style ignition coil.
Summit Racing Equipment
http://www.SummitRacing.com
1-800-230-3030