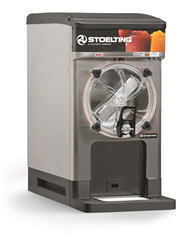 Kiel, Wis. (PRWEB) May 14, 2015
Stoelting, a leading manufacturer of frozen treat equipment for the foodservice industry, takes style, innovation, and durability to a whole new level with its latest frozen uncarbonated beverage dispensers to showcase at the 2015 National Restaurant Association Show, Hotel-Motel Show (NRA Show) in Chicago, Ill., May 16-19.
The sleek modern style and small footprint of the newest dispensers in the Stoelting frozen beverage line are eye-catching and save valuable counter space. Additionally, they produce virtually no noise and have a high-capacity refrigeration system that allows for quick recovery, ideal for bars and restaurants. Stoelting's precision engineered refrigeration, direct drive motor and components, also make it easy to maintain and energy efficient. Like many Stoelting products, the dispensers come with a 5-year major component warranty.
Configurable for a wide assortment of beverages, including margaritas, slushes, coffee drinks, and dairy-based products, these user-friendly dispensers are easy to clean and feature a push/pull, self-closing handle that allows for flexible operation while dispensing product – either pulling the handle down like traditional models, or pushing the handle up. The dispensers also come with an optional autofill feature.
Stoelting's NRA Show exhibition will also highlight the company's sophisticated VF231-38I2 machine designed to auto-dispense both frozen yogurt and soft serve products in three cup sizes through coupon or money activation. Product selections are made on a digital touch screen and include one of two single flavors or a twist option. The digital touch screen also features motion-sensing technology, which allows for custom slideshow marketing applications.
Also featured at the upcoming exhibition is Stoelting's latest push-button dispensing technology. Available for all Stoelting IntelliTec2™-controlled machines, the push-button dispenses a customizable portion of soft serve or frozen yogurt by the push of a button (one for each spigot) with accuracy within +/- 1 degree. Stoelting's IntelliTec2™-controlled machines feature a Wi-Fi enabled controller that monitors a machine's statistical data and uploads it to a subscriber website that monitors, tracks and reports on the machines operations. The new dispensing technology enables operators to have less waste and takes the guesswork out of serving sizes.
See many more Stoelting products, including demonstrations from leading experts, at Stoelting's exhibit in booth 4021 at NRA Show.
# # #
About Stoelting
Stoelting, a division of The Vollrath Company, L.L.C., is an industry leader in frozen treat equipment, offering a broad and premium line of softer serve, frozen custard, batch, and frozen beverage dispensing equipment that supports a wide range of foodservice venue. For more information about Stoelting, its products, facilities in the US, Europe and Mexico, and the foodservice industries it serves, visit http://www.stoeltingfoodservice.com or search "Stoelting" on Facebook or Twitter.