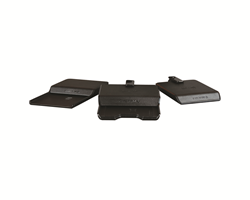 These smart card readers will offer you a cost effective solution for every card reading need.
Pleasant Prairie, WI (PRWEB) May 14, 2015
These new JT Class 1 terminal smart card readers use bidirectional communication for both contact and contactless smart cards. All models are PC/SC smart card readers, and are compatible with CCID and CardMan 3021. The JT-0100WB and the JT-0300WB also have EMV 2000 Level 1 certification that will enable them to work with most smart cards currently on the market.
The JT-0100WB and the JT-0300WB models each feature a card guide in the housing to allow for easy one- handed operation, while the JT-0300WB and JT-0200WB models provide easy access to the contactless sensor. A 5.7' USB cord provides convenience and ease of placement when in service, and a rubber surface on the bottom of the unit prevents slipping.
These smart card readers will offer you a cost effective solution for every card reading need, most notably those found in public administration, border control, transportation, educational, financial district and Point-of-Sale applications. Specific desktop applications include: access control and network log-on, single application sign-on, convenience replacement for passwords, multi-factor authentication, loyalty and multi-application cards, PKI (Private Key Infrastructure), digital signature and document encryption.
The JT-0200WB and the JT-0300WB contact smart card readers come with a 100,000 mating cycle life expectancy. All CHERRY JT Smart Card Readers have a 2-year warranty, and are available from authorized CHERRY distributors and resellers.
For further information visit http://cherrycorp.com/product-category/integrated-security/ or call 262-942-6500. Evaluation units can be made available to qualified recipients by contacting Russell MacKenzie, Product Marketing Manager. Please refer to his contact information below.
About CHERRY
CHERRY, a registered brand of ZF Friedrichshafen AG, provides high-performance sensors, standard and custom electrical switches, and computer input devices for the worldwide automotive, computer and consumer/commercial OEM markets.
About ZF Friedrichshafen AG
ZF is a worldwide leading automotive supplier for drive line and chassis technology with 121 production sites in 27 countries.