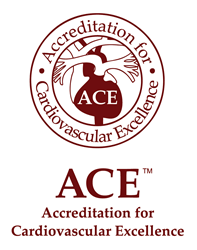 These standards meet the needs of the EP laboratory, because they include diagnostic and therapeutic procedures and the core functions of EP labs. -- Michael S. Katcher, MD, FHRS
Washington, DC (PRWEB) May 13, 2015
Accreditation for Cardiovascular Excellence (ACE) has just released the first-ever electrophysiology (EP) and Implantable Cardioverter Defibrillator (ICD) standards for accreditation. Driven by the latest available clinical evidence, the EP and ICD standards are a comprehensive review of interventional procedures in patients and adults with heart rhythm disorders.
"The ACE Standards for Electrophysiology (EP) and Implantable Cardioverter Defibrillators (ICD) Accreditation will allow EP laboratories to evaluate themselves against other facilities performing similar procedures and have input from an unbiased body of experts to help promote quality improvement within their center," said Michael S. Katcher, MD, FHRS, Director of Cardiac Electrophysiology and Pacing, North Shore Medical Center. "These standards meet the needs of the EP laboratory, because they include diagnostic and therapeutic procedures and the core functions of EP labs."
Prior to the development of the ACE standards, however, no broad based performance guidance had been published for quality care in the EP and ICD settings. The new ACE Standards define the current evidence-based best practices for a variety of diagnostic and interventional procedures and device implantation.
The ACE EP and ICD Standards will be launched at the ACE exhibit at the 2015 Heart Rhythm Society 2015 (HRS 2015) meeting, from May 13-16, 2015 at the Boston Convention & Exhibition Center in Boston, MA. Be sure to follow our meeting coverage on Twitter (@ACE_CVEXCEL) and visit ACE at the exhibit hall to receive your copy of the ACE EP and ICD Standards and to learn how your lab can realize the rewards and benefits of ACE accreditation. After the HRS 2015 meeting, the EP and ICD Standards will be available for download on the ACE website (http://www.cvexcel.org).
About Accreditation for Cardiovascular Excellence (ACE)
ACE is the global leader in accreditation and external quality review services for all catheter-based cardiovascular procedures. ACE, an independent organization sponsored by the Society for Cardiovascular Angiography and Interventions (SCAI) and the American College of Cardiology Foundation (ACCF), offers independent evaluation and monitoring of facilities that provide cardiovascular care. By reviewing facility and operator performance and comparing clinical decision-making to nationally accepted best practices, ACE quality review and accreditation services play a critical role in continuous quality improvement programs. Join us. Let us exceed your expectations and provide a free consultation. Contact ACE at info(at)cvexcel(dot)org or call our office at 202.657.6859 or visit our website at http://www.cvexcel.org.