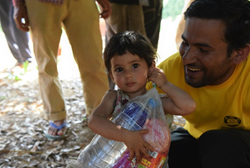 The Volunteer Minister 'helps his fellow man on a volunteer basis by restoring purpose, truth and spiritual values to the lives of others.'
(PRWEB) May 12, 2015
As the grim search-and-rescue phase of the Nepal earthquake disaster response moved over the past week into aid distribution for needy districts and villages, four teams of Scientology Volunteer Ministers concentrated their efforts on providing help to the devastated district of Sindhupalchowk in eastern Nepal near the Chinese border.
Some 38 Volunteer Ministers, 28 Nepalese volunteers and 10 from abroad, are distributing food, making tents, clearing roads, and providing Scientology "assists" to refugees in four villages of the district that suffered a death toll of nearly 3,000 residents – making it the worst-hit area in the nation. "Assists" are techniques developed by Scientology Founder L. Ron Hubbard that are designed to help speed recovery for those suffering physical and emotional trauma.
Among the VMs, there are five emergency medical technicians from Colombia from the nonprofit group CINAT (El Circulo Nacional de AuxiliadoresTecnicos – National Circle of Technical Helpers) who were flown to Nepal by the Church of Scientology. CINAT works in partnership with the Volunteer Ministers to provide medical care in times of disaster. There is also a medical doctor, a Volunteer Minister from Pakistan. Together, they are providing urgently needed medical care to villagers.
The Scientology Disaster Response Team maintains a base camp in the nearby village of Jalbire, keeping a light burning throughout the night to protect volunteers from wild tigers that roam the area after dark.
Volunteer Ministers have flown to Nepal to help with the relief effort hail from the United States, Taiwan, Fiji, Mexico, Peru, Brazil, and India in addition to Colombia and Pakistan.
Whether serving in their communities or on the other side of the world, the motto of the Scientology Volunteer Minister is "Something can be done about it." The program, created in the mid 1970s by L. Ron Hubbard and sponsored by the Church of Scientology International as a religious social service, constitutes one of the world's largest and most visible international independent relief forces.
The Volunteer Minister "helps his fellow man on a volunteer basis by restoring purpose, truth and spiritual values to the lives of others."
A global network of Volunteer Ministers mobilizes in times of manmade and natural disasters, answering the call wherever needed. Collaborating with some 1,000 organizations and agencies, they have utilized their skill and experience in providing physical support and spiritual aid at hundreds of disaster sites.