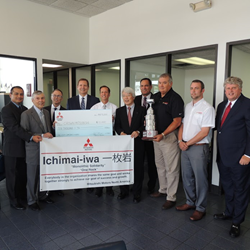 "We've worked incredibly hard to ensure that Crown Mitsubishi exhibits a strong commitment to excellence in sales and service, and it's gratifying to see that hard work pay off." -Vinny Cafiero
ST. PETERSBURG, FLORIDA (PRWEB) May 13, 2015
Crown Mitsubishi is proud to announce that the dealership recently earned the distinction of "Most Improved Dealer in the U.S." from Mitsubishi Motors North America, Inc.
The Mitsubishi dealership, which is one of the many dealerships that make up Crown Automotive Group, boasted a 262 percent improvement year-over-year, earning it the "Comeback Champion of 2014" title from the brand.
Mitsubishi Motors North America, Inc.'s Chairman and CEO Gayu Uesugi traveled to St. Petersburg to present Dwayne Hawkins, CEO, Jim Myers, President and COO, Vinny Cafiero, General Manager of Crown Mitsubishi, with this prestigious award on May 4, 2015.
A number of other Mitsubishi executives and team members were on hand for the presentation of the award, including Uesugi's assistant Juyu Jeon, Director Western Zone Retail Operations Kirk Smith, Southeast Area Manager Tim Barron, Miami District Sales Manager Ken Cole and Orlando/Tampa District Sales Manager Santiago Pinon.
"It's an honor to be named the most improved Mitsubishi dealership in the United States," said Cafiero. "We've worked incredibly hard to ensure that Crown Mitsubishi exhibits a strong commitment to excellence in sales and service, and it's gratifying to see that hard work pay off."
Those who are interested in learning more about Crown Mitsubishi can visit http://www.crownmitsubishi.com/
ABOUT CROWN AUTOMOTIVE GROUP
Crown Automotive Group has been in business for more than 40 years, and currently operates domestic and international automotive franchises in Florida, Ohio and Tennessee. The group is dedicated to customer and employee satisfaction, and is your source for new and pre-owned vehicles, parts and service, financing and more. No matter what you're looking for, you can be confident that you are getting an incredible deal and outstanding service when you visit one of the many dealerships that make up Crown Automotive Group.