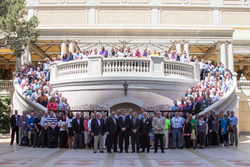 Our keynote speakers this year, along with many of our breakout sessions, brought home the issue that attracting clients and new advisors from the younger generation will play a central role in the coming years for representatives across the industry
Houston (PRWEB) May 14, 2015
More than 450 financial representatives, sponsors and employees of Houston-based broker-dealer, NEXT Financial Group Inc. (NEXT), attended the company's National Educational Conference (NEC) from April 29 to May 3, 2015, in Las Vegas.
"As with all of our conferences, the National Educational Conference is geared toward bringing the NEXT family together to share ideas and collaborate," said Barry Knight, president of NEXT. "Our keynote speakers this year, along with many of our breakout sessions, brought home the issue that attracting clients and new advisors from the younger generation will play a central role in the coming years for representatives across the industry."
Not only did the 2015 NEC feature four days of educational content, but NEXT also unveiled several new initiatives the award-winning firm has in store for its advisors. Among these is the Advisor Achievement Program, a new tiered rewards system focused on recognizing advisors for their dedication and accomplishments. Additionally, new strides were made in the last year with NEXT's solution to the waning number of advisors entering the industry, the Essential Lessons for Investment Training Excellence (ELITE) Program. Representative sponsors and their trainees had the opportunity to connect with fellow ELITE program participants and advisors to share success stories and network.
"Since our inception in 1999, NEXT has positioned our attention solely on the success and growth of our advisors," said Norm Grant, Chairman and CEO of NEXT. "Our firm's leadership continually seeks out new ways to provide a higher level of resources and support that add value to our representatives' experience with NEXT."
NEXT is a Division III broker-dealer servicing approximately 750 independent financial representatives throughout the country. The firm was voted Broker-Dealer of the Year* by its representatives an unprecedented eight times and continues building upon their unique culture to better serve the needs of independent financial professionals and their customers.
For investment professional use only.
*Based on a poll of registered representatives conducted by Investment Advisor magazine. Broker- dealers rated highest by their representatives are awarded "Broker-Dealer (B-D) of the Year."