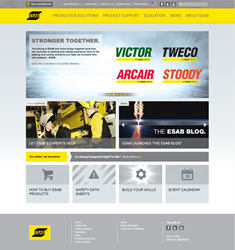 Florence, SC (PRWEB) May 14, 2015
ESAB Welding & Cutting Products announces the redesign of its website, http://www.esab.com across its entire global platform, including more than 40 countries in five geographic regions. A geolocation feature improves the browsing experience by automatically determining the visitor's country and directing the visitor to their local website. Each regional site offers localized content and features a new contemporary design, easy to use drop-down menus, and better functionality throughout, allowing visitors to find content in fewer clicks.
ESAB's next-generation website is more dynamic with an enhanced Product Support tab that provides one-click navigation to frequently requested information, including Material Safety Data Sheets (MSDS), Warranty Forms, Product Certifications, and User Manuals. Its responsive design automatically adapts to any size screen for viewing by mobile users via smart phone or tablet.
The redesigned website and its global launch is part of ESAB's ongoing digital initiative to deliver more value to the welding and cutting community in all the markets it serves. ESAB aims to make its website more accessible, adaptable and flexible. At http://www.esab.com visitors can find everything ESAB has to offer in one easy location, including welding and cutting tips and technical information at The ESAB Blog, another new feature of the site.
Rolling out later this year, esab.com will integrate information for ESAB's leading brands of Victor®, Tweco®, Arcair®, Stoody®, TurboTorch®, and Thermal Dynamics®.
ESAB Welding & Cutting Products is a recognized leader in the welding and cutting industry. From time-honored processes in welding and cutting to revolutionary technologies in mechanized cutting and automation, ESAB's filler metals, equipment, and accessories bring solutions to customers around the globe. For more information, visit http://www.esab.com or call 1-800-ESAB123.