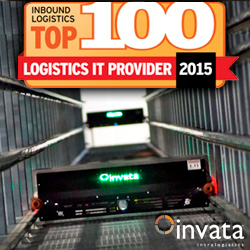 Invata's warehouse software is unmatched in its real-time optimization of labor, inventory management, and technologically advanced material handling equipment.
Conshohocken, PA (PRWEB) May 14, 2015
Invata Intralogitics a supplier of purpose-built warehouse automaton solutions that are uniquely conceived, exactingly designed, and meticulously integrated, announced today that is has been selected for the second year in a row as one of the logistics industry's Top 100 IT Providers by Inbound Logistics.
Every April, Inbound Logistics editors recognize 100 logistics IT companies that support and enable logistics excellence. Drawing from a large and diverse group, Inbound Logistics uses questionnaires, personal interviews, and other research to select the Top 100 Logistics IT Providers. The companies selected are considered to be leading the way in 2015 by providing scalability, simplicity, fast ROI, and ease of implementation in their offerings.
"Inbound Logistics is pleased to, yet again, recognize Invata Intralogistics for exceptional solutions, enabling logistics and supply chain excellence in 2015," said Felecia Stratton, Editor, Inbound Logistics. "While choosing our list of 2015 Top 100 Logistics IT Providers, Inbound Logistics editors looked for excellence in optimizing internal processes and logistics operations. Invata Intralogistics was selected because its warehouse automation systems solve key fulfillment challenges and improve business processes for its clients, while enabling greater efficiency throughout the entire client distribution network."
"We are very pleased to be included again this year in the Inbound Logistics Top 100 IT Providers," said Jay Moris, Invata CMO. "Invata's warehouse software is unmatched in its real-time optimization of labor, inventory management, and technologically advanced material handling equipment such as ASRS, sortation systems, and conveyor systems. As a fully integrated warehouse control and warehouse management system, our fully configurable software is the ultimate order fulfillment solution for omni-channel distribution centers, e-commerce fulfillment houses, or reverse logistics operations."
About Invata Intralogistics
Invata Intralogistics, Inc. is an authority in the design, implementation, and life cycle support of automated fulfillment and distribution center operations with demonstrable expertise in both software and systems engineering and development.
Specializing in the symbiotic integration of the flow of information with the flow of material goods, Invata offers complete solutions that begin with in-depth operational analysis and end with purpose-built, turnkey intralogistics systems that optimize processes and resource utilization while maximizing operational efficiency.
The result is a seamless synthesis of process and technology that engenders leaner, more productive, more adaptable, and more profitable fulfillment and distribution enterprises.
About Inbound Logistics
Since its inception in 1981, Inbound Logistics' educational mission is to illustrate the benefits of demand-driven logistics practices, give companies the knowledge to help them match the inbound flow of materials to their demand, and align their business process to support that shift. Inbound Logistics offers real-world examples and decision support to guide businesses to efficiently manage logistics, reduce and speed inventory, and offset rising transport costs, supporting business scalability across their value chain. More information about demand-driven logistics practices is available at http://www.inboundlogistics.com.