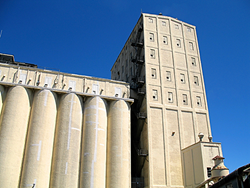 Irvine, CA (PRWEB) May 14, 2015
Bird B Gone, the leader in bird-control products for commercial, industrial and residential applications now offers a complete line of bird control solutions for today's grain storage and manufacturing facilities. Pest birds create a number of problems for these facilities. Besides damaging buildings, machinery and vehicles, birds often contaminate grain with diseases that can lead to respiratory problems and other illnesses.
Legal Bird Controls Strongly Advised
While it's often tempting to use lethal means to eliminate birds (shoot, trap or poison), most birds (except pigeons, house sparrows and starlings) are protected by federal and state laws. Property owners/facilities managers may NOT trap, kill or possess protected species without federal and state permits. Regulatory officials are serious about enforcing these laws and will impose high fines for violations.
Humane, Effective Bird Control Solutions
Bird B Gone solutions are specifically designed to provide humane bird control in and around grain storage and manufacturing facilities. Deterrents/repellents include:

EcoBird 4.0®. The active ingredient in this product irritates a bird's mucous membranes, forcing them to leave. EPA approved and safe for both indoor and outdoor applications, EcoBird® 4.0's temporary effect will not harm birds. Effective against a wide variety of birds, the repellent is safely applied with mechanical fogging equipment that deploys a light fog or haze. 
Bird B Gone® Hazer.  This affordable hazing system releases a fine fog (less than 5-micron particle size) of EcoBird 4.0 indoor/outdoor bird repellent into the air. This hazer uses far less liquid repellent than other hazing units.  It features a 1 liter tank, and each main controller controls up to 6 satellite units for full perimeter coverage. 
Dyna-FogTM Falcon 4000. This hand-held applicator dispenses the EcoBird 4.0 indoor/outdoor bird repellent—easily, effectively and economically. Its patented Dyna-Fog stainless steel engine and starting system and non-pressurized fuel tank system ensure easy, consistently reliable starts. An optional air/fog amplifier increases fog width. A Duo-Flow option features a three-way valve with one port directing the flow of oil-based products and the other for water-based products.
The Agrilaser®. This hand-held device uses advanced, patented optical laser-beam technology to harmlessly repel pest birds over great distances—up to 2,000 meters. Much like an approaching car, birds perceive the green laser beam as a rapidly approaching physical threat, so they flee the area. Ideal for repelling a variety of birds, the Agrilaser® comes with two rechargeable batteries and power charger. 
Bird B Gone is the world's largest manufacturer and distributor of bird control products, providing effective and humane solutions to a bird-free environment. The company provides advice; training and installation services for those who need help with these and other bird control measures. For help in choosing the right bird netting hardware for any job, call the experts at (800) 392-6915.