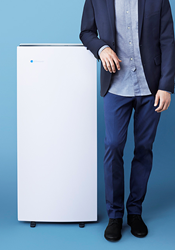 Blueair purification systems feature everything a hotel could desire: sharp design, low energy costs, and smart technology that can automatically preserve air quality without demanding any effort from guests
Las Vegas, Nevanda (PRWEB) May 15, 2015
Blueair is exhibiting its flagship air purification systems at the Hospitality Design Exposition & Conference (HD Expo), May 13-15 at Mandalay Bay in Las Vegas. Located at Booth 1212, Blueair will show the Wi-Fi connected Sense+, the Aware ™ air quality detector, and the Blueair Pro, the world's most powerful standalone air purifier. With this versatile selection of purifiers, hotels can provide clean air from units that combine cutting edge technology and award-winning design.
The Blueair Sense+ packs smart technology inside a stunning body created by Claesson Koivisto Rune, one of Sweden's most celebrated design and architecture firms. The Wi-Fi enabled air purifier connects to the Blueair Mobile App, meaning users can control the unit from an iOS or Android device, anywhere with a cellular connection. Featuring a clean air delivery rate (CADR) of 130 cubic feet per minute (CFM), the Sense+ can remove 99.97% of air pollutants five times per hour, and it suitable for spaces up 200 square feet. The unit is available in six colors: midnight blue, leaf green, ruby red, white, warm gray, and graphite.
A perfect complement to the Sense+, the Blueair Aware is a connected 'sniffer' that can detect air pollution and transmit data directly to the Blueair Mobile App. Used in tandem with Sense+, it can automatically start, stop, and adjust purification to ensure that air remains pollutant free. The Aware™ sensor can detect levels of particulate matter (PM2.5), carbon dioxide, and volatile organic compound (VOCs) as well as temperature, air pressure, and humidity. This data empowers consumers to understand indoor air quality and avoid irritants that cause flu or allergy-like symptoms.
For hotels needing to purify larger spaces, the Blueair Pro air purifiers provide the highest clean air delivery rate (CADR) of any standalone units on the market. Available in three models designed for different room sizes – 390, 780, or 1,180 square feet – the ENERGY STAR-rated Blueair Pro consumes as little electricity as a light bulb. The device features an Air Intelligence module that automatically adjusts purification performance depending on the amount of pollutants in the air. The flagship Pro XL model exceeds the Association of Home Appliance Manufacturer's (AHAM) maximum ratings by roughly double. In testing, it cleared smoke at 800 cubic feet per minute (cfm), dust at 950 cfm, and pollen at 900 cfm.
"Blueair purification systems feature everything a hotel could desire: sharp design, low energy costs, and smart technology that can automatically preserve air quality without demanding any effort from guests," said Herman, Pihltrad at Blueair. "For many people, clean air can make the difference between a pleasant stay and long nights of coughing and sneezing. Clean air is as important as fitness centers and wholesome dining options when it comes to providing a truly health-conscious environment. "
To learn more about Blueair, visit http://us.blueair.com/
For more information, please contact:
USA
Herman Pihlträd, President, Blueair Inc.,
T: 1-312-771-2196
E. herman(dot)pihltrad(at)blueair(dot)se