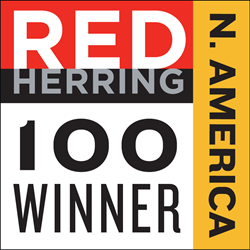 It is truly an honor to find ourselves on the Red Herring Top 100 with so many prestigious companies that are also leaders within their spaces and changing the game for their customers. - Michael Praeger, CEO & Co-Founder of AvidXchange
Charlotte, NC (PRWEB) June 08, 2015
Red Herring announced its Top 100 North America award winners in recognition of the leading private companies from the region, celebrating these startups' innovations and technologies across their respective industries. AvidXchange, leading provider of Accounts Payable and Payment Automation for the midmarket, was designated as one of the Red Herring Top 100, and was the only company to make the list for the Carolinas.
"It is truly an honor to find ourselves on the Red Herring Top 100 with so many prestigious companies that are also leaders within their spaces and changing the game for their customers," commented Michael Praeger, CEO and Co-Founder of AvidXchange. "As the only company represented from North and South Carolina, we are proud to showcase the opportunities and growth that exist in our region. Charlotte has been an incredible place for us to attract, and maintain, top talent to continue to drive our record-breaking year-over-year growth, and provide a world class experience for our now more than 5,000 customers," added Praeger.
Red Herring Top 100 America enlists outstanding entrepreneurs and promising companies. It selects the award winners from approximately 1,200 privately financed companies each year in the US and Canada. Since 1996, Red Herring has kept tabs on these up-and-comers. Red Herring editors were among the first to recognize that companies such as Facebook, Twitter, Google, Yahoo, Skype, Salesforce.com, YouTube, Palo Alto Networks and eBay would change the way we live and work.
"In 2015, selecting the top achievers was by no means a small feat," said Alex Vieux, publisher and CEO of Red Herring. "In fact, we had the toughest time in years because so many entrepreneurs had crossed significant milestones so early. But after much thought, rigorous contemplation and discussion, we narrowed our list down from hundreds of candidates from across North America to the North America winners. We believe AvidXchange embodies the vision, drive and innovation that define a successful entrepreneurial venture. AvidXchange should be proud of its accomplishment, as the competition was very strong."
Red Herring's editorial staff evaluated companies on both quantitative and qualitative criteria, such as financial performance, technological innovation and intellectual property, DNA of the founders, business model, customer footprint and addressable market. A review of the track record and standing of startups relative to their sector peers, allowed Red Herring to see past the "buzz" and make the list a valuable instrument of discovery and advocacy for the most promising new business models in North America, complement this assessment of potential.
About AvidXchange
AvidXchange revolutionizes the way companies pay their bills. Serving more than 4,500 clients throughout North America, AvidXchange is an industry leader in automating invoice and payment processes for midmarket companies spanning multiple industries including Real Estate, Financial Services, Energy and Construction. AvidXchange has been recognized as one of the 50 fastest-growing private companies in the Charlotte area for four consecutive years, as well as ranked among Deloitte's Fast 500 this past year. In the midst of record growth, AvidXchange has remained true to its most valued competitive advantage—its people. AvidXchange has been recognized as one of the Best Places to Work in Charlotte for six consecutive years. For more information, contact us at 800.560.9305 or info(at)AvidXchange(dot)com.