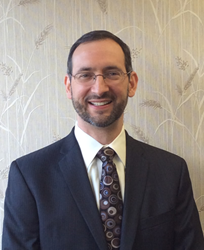 Catonsville, MD (PRWEB) May 14, 2015
May is National Stroke Awareness Month, and Dr. Ari Moskowitz is educating the community about the compelling evidence, which links periodontal disease to an increased risk of stroke. He is able to offer his patients in Catonsville, MD, a laser gum surgery that is highly effective at eliminating much of the infectious bacteria under the gums, which is also found in the thickened carotid arteries of stroke patients. The procedure, known as the LANAP® process, removes the diseased tissue and cauterizes the gums for a quick recovery.
Gingivitis is caused by a buildup of plaque around the base of the teeth and below the gum line, and it often develops within a matter of days. Good dental hygiene can help to prevent plaque, but risk factors such as poor oral hygiene, genetics, tobacco use, and hormone fluctuations increase the chances of formation. The resulting inflammation and bacterial infection often lead to periodontitis, which is a more advanced form of gum disease that involves deeper infection and bone loss, which is often surprisingly painless until it reaches the later stages. Moderate and advanced periodontal disease can frequently cause irreversible damage to the supporting structures of the teeth leading to shifting of teeth, jaw infections, and even tooth loss. As periodontitis advances, bacteria enter the bloodstream from the inflammation under the gums, and this could be an influencing factor in increasing the risk of a stroke. Therefore, it is critically important for one's health to get periodontal disease treated, even if one doesn't experience noticeable issues with it.
For moderate to advanced periodontitis cases, periodontists typically recommend a procedure called pocket reduction surgery (also known as flap surgery or osseous surgery), which removes plaque and bacteria from below the gum line. Unfortunately, this oral surgery often requires the gums to be cut with a scalpel and pulled back, so that the affected area can be treated, and then sutured closed. Traditional gum disease treatment such as this can cause unwelcome anxiety and difficult recovery, and as a result, too many patients procrastinate having needed treatment. Dr. Moskowitz adopted the LANAP® process, an FDA-cleared laser gum surgery in Catonsville, MD, that does not involve incisions and sutures. The PerioLase® MVP-7™ laser has a thin fiber optic tip that is gently inserted below the gum line. A specially calibrated beam of laser light then cleanses the infected tissue, without damaging healthy tissue, and an ultrasonic cleaning instrument is then used to break down and eliminate remaining calculus (mineralized bacteria) from the roots of teeth to prevent further infection.
Periodontal disease is only one risk factor in regards to stroke; however, it is the one risk factor that Dr. Moskowitz can eliminate easily, with his advanced technology in laser gum surgery in Catonsville, MD.
About the Practice
Baltimore Periodontics Lasers & Dental Implants is a periodontal practice offering individualized care for patients in Catonsville, MD. Dr. Ari Moskowitz has been voted by general dentists as one of the top periodontists in the Baltimore area (as surveyed by Baltimore Magazine). He received his Doctorate of Medical Dentistry (D.M.D.) from Tufts University School of Dental Medicine in 1998. Immediately following dental school graduation, he gained entrance to the prestigious University of Maryland- Baltimore College of Dental Surgery Periodontology Program for residency training, where he received a Certificate as a specialist in the field of Periodontics in 2001. Dr. Moskowitz believes in continuing education and is proud to offer advanced periodontal techniques, such as the LANAP® protocol and Pinhole Gum Rejuvenation Technique™, to provide the best possible outcomes. To learn more about Baltimore Periodontics Lasers & Dental Implants and the services they provide please visit their website at http://www.baltimoreperio.com or call (410) 774-5441.