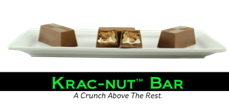 We are excited to announce that our amazing new Krac-nut™ Bar will be competing for the "Most Innovative New Products Awards" at the Sweets & Snacks expo in Chicago
(PRWEB) May 18, 2015
Weaver Nut Company, Inc. is pleased to introduce the latest creation in the Weaver Chocolates™ Line – the Krac-nut™ Bar! This new and innovative chocolate bar is scheduled to be featured and will compete at the Sweets & Snacks Expo May 19-21 in Chicago, IL for "Most Innovative New Products Awards."
The Weaver Chocolates™ Line features premium ingredients including the finest quality chocolates, for the most delectable palate pleasing taste. The Krac-nut™ Bar, the latest offering from Weaver Chocolates™ is no exception, featuring premium 36% Cacao pure milk chocolate with Belgium liquor, molded perfectly to envelope layers of fresh roasted Virginia Peanuts, amid buttery caramel and creamy indulgent marshmallow, topped off with a crown of secret ingredients to give it that extra-special delightfully sweet crunch unlike any other chocolate bar available today!
Weaver Nut's most recent offering, the Weaver Chocolates™ Krac-nut™ Bar certainly meets and exceeds the company mission of delivering only the finest quality and premium taste backed by the exceptional Weaver 100 percent satisfaction guarantee. Weaver Chocolates™ promises only the best chocolates, coatings and ingredients – panned, enrobed and molded to perfection for the ultimate indulgence. The Krac-nut™ Bar joins the ever-expanding line of Weaver Chocolates™ which includes chocolate coated pretzels, nuts, and fruits, along with delicious pure chocolate confections in dark, milk and white varieties.
As with all Weaver Nut offerings, customers should expect only the best and that includes the new Krac-nut™ Bar. "We are excited to announce that our amazing new Krac-nut™ Bar will be competing for the "Most Innovative New Products Awards" at the Sweets & Snacks expo in Chicago. This will put the product in front of a judging panel that represents 90 percent of the sales channels for candy & snacks in the United States. Needless to say, it's quite an impressive judging panel and will be a huge spotlight for Weaver Chocolates™ and the introduction of our latest mouthwatering sweet treat!" - Edward Weaver, Chief Operating Officer, Weaver Nut Company, Inc.
Weaver Nut Company began in 1975 as a family business determined to deliver delicious, fine quality foods like chocolates, coffees, teas, nuts, fruits and more. The family's mission was to "serve customers the way they want to be served" and today that practice continues as the Weaver Chocolates™ Krac-nut™ Bar joins in this Lancaster family's timeless tradition.
Weaver Nut Company, Inc. is pleased to introduce the Weaver Chocolates™ Krac-nut™ Bar, created with the best quality products and delivered with exceptional customer service.
Stop in today in-store or online at http://www.weavernut.com and try the innovative and indulgent Krac-nut™ Bar and taste the deliciousness!
Bio: From their home in Lancaster County, Pennsylvania, the Weaver Family began their business nearly 40 years ago with the mission to "serve customers as they want to be served with quality, integrity and enthusiasm." Since that time, the little home business has expanded into Weaver Nut Company, Inc. thanks to a dedicated team and a multitude of satisfied customers. Today the company includes the Amish Maid™ private label, Food Brokers International (the wholesale operation) and Weaver Nut Sweets and Snacks retail and web shop. Visit http://www.weavernut.com today and experience the delectable difference that is Weaver Nut Company, Inc.