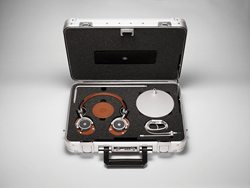 New York, NY (PRWEB) May 19, 2015
Premium audio brand, Master & Dynamic announced today a new collaboration with Zero Halliburton, the legendary aluminum travel case brand.
Master & Dynamic and Zero Halliburton have teamed up to launch a limited-release, mobile toolkit for creatives on-the-go. Limited to 200 units, each Master & Dynamic x Zero Halliburton Kit includes 1 pair of Master & Dynamic's signature MH40 Over Ear headphones or MH30 On Ear headphones, 1 matching metal headphone stand and the new MM800 Boom Mic—Master & Dynamic's latest coveted audio accessory―inside Zero Halliburton's aluminum travel case.
This sleek kit was designed with portability in mind. The goal―to take your creative toolkit from one creative workspace to the next. It represents an impeccable offering for those desiring a suite of creative sound tools in a sleek, stylish and durable case.
The Master & Dynamic x Zero Halliburton kit is the first of many future product collaborations between the two companies, who have struck a long-term, exclusive partnership for the sale of audio products in Zero Halliburton cases.
The limited-release, online-exclusive collaboration launches today, exclusively at http://www.masterdynamic.com, where kits retail from $700 (MH30 headphone kits) - $750 (MH40 headphone kits).
All colorways of the MH40 and MH30 headphones will be available to purchase as part of these kits.
About Master & Dynamic
Master & Dynamic is a premium audio brand obsessed with sound and creativity. We are a New York City-based company with a deep passion for building beautifully crafted, richly appointed, technically sophisticated sound tools for creative minds. Our headphones are tuned to provide a rich warm sound that perfectly captures the exceptional detail of well recorded music. We see our headphones as modern thinking caps: tools to help focus, inspire and transport your mind.
Designed for decades of use, our products are engineered to last, utilizing only the finest materials such as premium leathers and stainless steel, which create the perfect balance of aesthetics, strength, comfort and sound.
About Zero Halliburton
The Zero Halliburton story began by creating the first aluminum travel cases. Contemporary design, unsurpassed quality and protection meeting military specifications define the essence of the company. Security, durability and reliability were Zero Halliburton's top priority 77 years ago and remain the same today.
###
Contact:
David Shulman
dshulman(at)lsagency(dot)com
(646) 374-0842