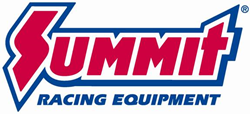 Tallmadge, OH (PRWEB) May 20, 2015
200% stronger than the stock components, Currie's Currectlync® Heavy Duty Tie Rod System is a direct bolt-on replacement for the stock Jeep TJ tie rod setup, with the additional strength to handle the stress of bigger, heavier tires. It's easy to install, with no modifications or machining necessary.
Currie says the Currectlync system is compatible with Jeeps that have up to 6 inches of lift, provided 2 inch bump stops are used. Vehicles with over 4.5 inches of lift will require an extended pitman arm. It will work on Jeeps with no lift, though the tie rod ends may need to be trimmed to achieve proper adjustment.
The Currectlync system includes a 1.25 inch OD solid alloy steel tie rod, a forged alloy steel drag link assembly, tie rod ends, a steering stabilizer kit, and all required hardware. The new tie rod ends use greasable zerk fittings to promote a long service life. Jeepers can also get each part in the Currie Currectlync system individually.
The Currie Currectlync Heavy Duty Tie Rod System will fit the 1997-2006 Jeep Wrangler and 1987-2001 Jeep Cherokee XJ, and 1987-91 Jeep Comanche MJ.
Currie also makes a ton of suspension, driveline, towing, and steering parts for other Jeep models, including the CJ series, Cherokee XJ, and new Wrangler JK.
Currie Suspension components were featured on Episode 10 of PowerNation TV's Truck Tech. Watch the full episode here.
Summit Racing Equipment
http://www.SummitRacing.com
1-800-230-3030