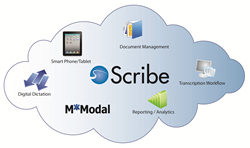 Lake Forest, IL (PRWEB) May 19, 2015
Scribe Healthcare Technologies version 2.2.0 of the Scribe Platform received Meaningful Use Stage 2 Certification. The Scribe Platform is the first documentation platform to receive the 2014 Edition Certification.
Significant increases in Electronic Health Record (EHR) technology was in large part due to the Center for Medicare and Medicaid Services (CMS) EHR Incentive Programs. Providers must demonstrate Meaningful Use (MU) to receive the incentive payments. As defined by HealthIT.gov, "Meaningful Use refers to the use of certified EHR technologies by healthcare providers in ways that measurably improve healthcare quality and efficiency."
Despite the financial incentives, implementation of EHR technologies has been costly and time consuming. Provider productivity and quality time spent on patient exchanges have been reallocated to data entry, cutting and pasting into EHRs and substantial workflow adjustments. Scribe Healthcare Technologies' platform preserves provider productivity by presenting a number of solutions to improve overall health information management for patients. With Scribe, physicians no longer have the sole responsibility for patient documentation.
Elements of MU include achieving measurement thresholds and showing that patient records include clinical decision support, detailed structured data and result explanations. These same elements are significant components to Scribe's cloud-based technology. Assisting healthcare practitioners achieve MU by delivering secure patient information in an efficient and coordinated way is inherent in Scribe's platforms.
Consequently, Scribe obtained Meaningful Use Certification on April 15, 2015 to help eligible providers, critical access hospitals, and hospitals meet the Stage 2 MU program requirements. Scribe's certification testing for Modular classification in an Ambulatory setting was conducted by InfoGard, an accredited testing lab per ONC's certification procedures. Certification criteria 170.314(a)(9), (g)(1), (g)(4) evaluated the platform's ability to electronically record, change, access, and search electronic notes within the technology. http://infogard.com/healthcare_it/onc_certification/ehr_certificates
Scribe created a specific template and customized report that maps to the template. The template tracks and confirms select items within the documentation, and the report quantifies metrics including filter, output and display options. The ONC provided a test set of patients that InfoGard used to verify the template and reporting. Once testing was successfully completed, InfoGard issued the Scribe Platform Certification #IG-3355-14-0103.
Not only does MU certification affirm that Scribe offers the technological capability to securely and effectively help clients attest MU, but is critical to assuring more streamlined, interactive patient documentation.
The Scribe Platform is 2014 Edition compliant and has been certified by an ONC-ACB in accordance with the applicable certification criteria adopted by the Secretary of Health and Human Services. This certification does not represent an endorsement by the U.S. Department of Health and Human Services.
About Scribe Healthcare Technologies, Inc.
Scribe Healthcare Technologies, Inc. is a privately-held, healthcare technology company based in the Chicago, IL area. The company has developed a proprietary "Cloud-based" platform that centers on medical documentation solutions to deliver physician narrated content to the electronic medical record. Scribe's platform includes complete solutions for dictation, transcription, voice recognition, document management, clinical documentation improvement, and reporting with data analytics. Scribe offerings include both computer and mobile solutions. Scribe serves more than 50,000 users. Business partners and resellers include consulting firms, transcription companies, EHR providers, and business process outsourcers. Additional information is available at http://www.scribe.com.
XXX