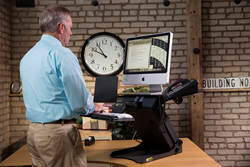 It helps that HealthPostures' ergonomics products are the most cost-effective ergonomics workplace solutions on the market
St Louis MO (PRWEB) May 17, 2015
Nationally respected ergonomics designer, HealthPostures, announces its appearance at the May 18-20, 2015 Voluntary Protection Programs Association (VPPPA) Conference. The conference will be held at the Chase Park Plaza Hotel in St. Louis, Missouri.
HealthPostures develops ergonomics products, workplace solutions that improve mobility, increase energy and augment overall health for American workers. The company has been designing workplace solutions since 1996, about a decade before sit stand solutions became en vogue. HealthPostures' ergonomics products potentially on display at the May VPPPA conference include the 5050 Stance Move EXT, 6300 TaskMate Go, the 6400 TaskMate EZ and the 6100 TaskMate Executive.
Like cognitive ergonomics products, HealthPostures' workplace solutions complement natural body shapes and movements. Aim of the products is to prevent injuries such as muscle damage, carpal tunnel, neck pain, headaches and other musculoskeletal injuries. OSHA reports that people who may be at risk of developing musculoskeletal injuries include people who sit or stand in awkward positions, use significant force to perform parts of their job or repeat similar movements for extended periods.
It helps that HealthPostures' ergonomics products are the most cost-effective ergonomics workplace solutions on the market. Equipment features that VPPPA conference attendees could test out in-person are manual height adjustments, tilt features that enhance monitor viewing, the heavy duty steel construction that the products are designed with and the equipment's stability. Attendees will also have the opportunity to ask a HealthPostures' representative questions about the products' features and benefits.
The May VPPPA conference offers educational opportunities in the form of workshops and webinars. Topics covered during workshops at the conference and during other VPPPA events are understanding Voluntary Protection Programs, the four elements of Voluntary Protection Programs and the stages of Voluntary Protection Programs.
Theme of the May 2015 conference is "Reflections of Excellence." In addition to educational workshops, at the conference will be motivational speakers, mentoring opportunities and exhibitors such as the ergonomics leader, HealthPostures. A scholarship will also be awarded to an eligible recipient.
VPPPA was launched in 1982 by the Occupational Safety and Health Administration (OSHA). Today, the VPPPA has association chapters in each of America's OSHA regions. Categories that its 1,900 membership sites roll up to include unions, non-profits, company headquarter offices and sites pursuing associate membership status.
About HealthPostures
HealthPostures LLC (https://healthpostures.com) specializes in the design, development and manufacturing of workplace safety ergonomics products and equipment. For nearly 20 years, the company has built the equipment that is helping people to stay healthy while they work. The firm has developed pioneering ergonomic sit stand solutions since 1996. A key mission of HealthPostures' is to "strive to provide quality products that will help transform your sedentary life so you have a healthy way to work." Office solutions sit stand products Health Postures designs and manufactures include dual monitor sit stand work stations, adjustable mouse stands, dual monitor arm accessories, Stance move seat extensions, industrial surface Taskmates and Stance Move chairs.
Contact:
HealthPostures LLC
14310 Ewing Avenue South, Suite 100
Burnsville, MN 55306
800-277-1841
https://healthpostures.com
Resources:
https://www.osha.gov/Publications/osha3125.pdf
https://www.vpppa.org/history