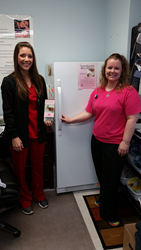 Join Independence County Health Unit's opening celebration on June 3 at 2:30 pm for the first donor human milk collection site in Batesville, Arkansas.
Batesville, Arkansas (PRWEB) May 19, 2015
The Independence County Health Unit, located at 120 Weaver Avenue, 80 miles northeast of Little Rock, is planning a grand opening on Wednesday, June 3 at 2:30 p.m. to celebrate and promote Batesville's new donor breastmilk collection depot. Local healthcare professionals and members of the community are welcome to attend and learn more about milk donation.
Independence County Health Unit is the fourth donor breastmilk drop off location in Arkansas and is open Monday through Friday from 8 a.m. to 4:30 p.m. Donor milk is safely stored in a freezer before being shipped overnight to Mothers' Milk Bank of North Texas (MMBNT) where it is thawed, pasteurized, packaged and dispensed by physician prescription to NICUs and medically needy babies at home.
Donors are typically pumping more milk than their own babies need and are screened free of charge through medical histories and blood tests. Amy Vickers, Executive Director of MMBNT, adds, "Nonprofit milk banks like ours ensure donor human milk is safe and available to the infants who need it most, regardless of the family's financial situation."
Independence County Health Unit in Batesville offers a wide variety of community health services including breastfeeding counseling, immunizations, communicable disease prevention and WIC (Women, Infants and Children) Program support. Administrator, Sonia Nix says, "Donating breastmilk is such a wonderful and selfless thing to do for sick babies. Our location now gives mothers in our geographical area a convenient place to drop off milk. The goal for Independence County Health Unit is to generate community awareness about milk banking and help as many sick babies as we can."
About Mothers' Milk Bank of North Texas
Mothers' Milk Bank of North Texas is a non-profit 501(c)(3) organization located in Fort Worth, Texas. Founded in 2004, the milk bank dispenses pasteurized donor human milk by prescription to premature and critically ill infants when their own mother's milk isn't available. For more information about becoming a donor, please email moms(at)texasmilkbank(dot)org or call 817-810-0071 or toll free 1-866-810-0071. To learn more about milk banking, visit http://www.texasmilkbank.org