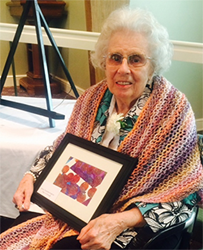 Monroe, OH (PRWEB) May 19, 2015
Mount Pleasant Retirement Village hosted a touching and beautiful evening in celebration of our resident artists on Thursday, May 7. Mount Pleasant had the honor of creating a gallery exhibition with resident masterpieces from our Opening Minds Through Art (OMA) program conducted by Scripps Gerontology Center, an Ohio Center of Excellence at Miami University. The exhibition showcased the artists' accomplishments while educating the public about the creative capacities of people living with dementia.
The OMA program is an intergenerational art program for individuals living with dementia, aimed at promoting social engagement, autonomy and dignity through the experience of self-expression. There is a growing body of empirical evidence that creative expression improves both physical and psychological well-being. The mission of OMA is to build bridges across age and cognitive barriers through art.
The program is implemented in group sessions where up to 12 people with dementia work on a one-to-one basis with the assistance of trained volunteers. OMA was founded in 2007 by Dr. Lokon at the Scripps Gerontology Center at Miami University in Ohio. OMA annually serves 200 pairs of elders and volunteers. In 2011, OMA received the Best Practice Award from LeadingAge Ohio.
All of us at Mount Pleasant Retirement Village would like to thank the Middletown Community Foundation for their generous donation that made this program possible. This precious gift allowed us to interact with our residents in a personal and creative way while also allowing them to communicate through another form of expression.
About Mount Pleasant Retirement Village
Mount Pleasant Retirement Village is one of 12 retirement communities owned and operated by OPRS Communities, a wholly owned subsidiary of Ohio Presbyterian Retirement Services (OPRS), headquartered in Columbus. Since 1922, OPRS has defined the highest standards of quality of life for older adults. Each year, OPRS serves more than 73,000 people annually through its wholly owned subsidiaries OPRS Communities and Senior Independence.