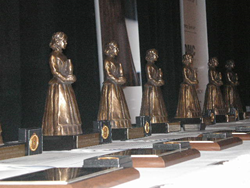 Troy, Michigan (PRWEB) May 22, 2015
AmeriCare Medical, Inc. employees and nurse staff attended the prestigious Oakland University Nightingale Awards on the evening of May 7, 2015 at the San Marino Club in Troy. Throughout its history, the Nightingale Awards continues to stand as the only event of the kind in Michigan, actively shaping the future of nursing and health care excellence, and celebrating the strong commitment to nursing in our community as demonstrated by Florence Nightingale, the founder of modern nursing. Eight winners were selected for different categories and funds raised at the event promote additional research and development opportunities, employment opportunities and scholarship monies for students, interns and graduates at the Oakland University School of Nursing. This year, AmeriCare Medical, Inc. partnered with Oakland University as a scholarship sponsor for the Long Term Care and Rehabilitation Award.
"We are excited to once again partner with Oakland University School of Nursing to prepare nursing leaders to integrate life-long learning, skills and values into their professional nursing practice within our community," said Greg Jamian, President of CEO of AmeriCare Medical, Inc., and board member for the Oakland University School of Nursing. Jamian presented the award for Long Term Care and Rehabilitation to Theresa Duller of Royal Oak, Beaumont Hospital. AmeriCare's nursing company, AmeriStaff Nursing Services, has been an exemplary employer of the nursing fields, and currently employs over three-hundred and fifty nurses and places them in home care, hospitals, government and businesses throughout Michigan.
Ten employees of AmeriCare Medical were in attendance at the event, including Korina Melton, a nurse who was honored as AmeriStaff Nursing Services' "Nightingale Nurse." Over five-hundred nurses, administrators, physicians and supporters attended the event. This year's program featured a sit down dinner, auction, address from Beaumont's new president and emcee Amy Andrews of Fox 2 Detroit.
About AmeriCare Medical, Inc.
For over three decades, AmeriCare Medical, Inc. has provided integrated health care services to hospitals, assisted care facilities and private homes throughout Michigan. AmeriCare Medical, Inc. is the parent company of AmeriStaff Nursing Services, Sun Medical Equipment and Rx iV Pharmacy, making it a one stop shop for patients and their home care needs. AmeriCare Medical, Inc. is accredited by the Community Health Accreditation Program (CHAP) for high standards of excellence in medical staffing, private duty nursing, durable medical equipment and pharmacy services.
For more information visit: http://www.americaremedical.com