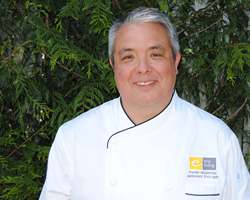 The nomination for [Ida Culver House Ravenna's] Executive Chef, Chad McKenzie stood out among this year's nominations because it demonstrated Chad's personal commitment to quality, person-centered care, as well as going above and beyond expectations
SEATTLE (PRWEB) May 20, 2015
Dungeness cranberry crab cakes with sun dried tomato aioli is Ida Culver House Ravenna Executive Chef, Chad McKenzie's favorite dish to serve his nearly 200 diners, because the ingredients represent the best of local flavor and hit the sweet notes of northwest living.
Wednesday, May 20th McKenzie will be honored with the 2015 Washington Health Care Association's (WHCA) Red Carpet Award for service in Assisted Living. The award will be presented at WHCA's annual luncheon at the Hotel Murano in Tacoma.
"WHCA has been honoring quality care through annual awards for the past 10 years," says WHCA Director of Member Services, Brenda Orffer. "The nomination for Chad stood out among this year's nominations because it demonstrated Chad's personal commitment to quality, person-centered care, as well as going above and beyond expectations."
More than 70 nominations were submitted by the more than 400 assisted and skilled nursing facilities WHCA represents.
"Since Chad took lead in our kitchen, three years ago, I have noticed more and more people in our dining room," remarks Era Living Quality Assurance Director Albert Munanga who nominated McKenzie for the award. "Residents are inviting their friends for dinner, lingering after meals, and really enjoying themselves."
Era Living and its leaders at Ida Culver House Ravenna recognize that healthy, flavorful food is a big part of a high quality lifestyle.
"Food brings us together; when it's good we have something pleasurable to talk about," says McKenzie. "The dining team understands the opportunity we have. Through food and great service, we can make a tough day better, and end a happy day on a high note. It's very fulfilling."
Washington State is home to more than 25,000 assisted living and skilled nursing professionals.
About Washington Health Care Association
WHCA's mission is to promote quality long-term and post acute health care and services, while serving as an advocate for providers, staff, and the patients and residents they care for. Association members provide health and personal care, social support and housing to 25,000 elderly, or disabled Washingtonians each day.
About Era Living
Since 1987, Era Living has been dedicated to fostering a healthy and engaging environment of life long learning, whole body wellness, cultural enrichment and social fulfillment for older adults at all eight of its Seattle area communities.
The Era Living communities are Aljoya Mercer Island, Aljoya Thornton Place, Ida Culver House Broadview, Ida Culver House Ravenna, The Gardens at Town Square, The Lakeshore, University House Issaquah, and University House Wallingford. More information at http://www.eraliving.com.