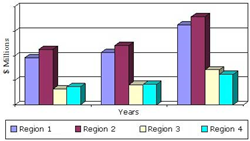 The asthmatic treatment device market is forecast to grow at a compound annual growth rate (CAGR) of 8.9% between 2013 and 2019.
(PRWEB) May 19, 2015
Wellesley, Mass., May 19, 2015 – BCC Research reveals in its new report on nebulizers, inhalers and respirators that a number of factors are increasing both costs and sales of asthmatic treatment equipment. Market drivers include a rise in the number of asthma cases, an expanding elder population, increased rates of smoking and obesity, more pollution and heavy patenting of branded products (in the U.S., especially).
The asthmatic treatment device market is forecast to grow at a compound annual growth rate (CAGR) of 8.9% between 2013 and 2019. In 2019, global market value should reach $19 billion. Asia is forecast as the largest growth area, with a five-year CAGR of 11.8%. Worldwide, the nebulizer, inhaler, and respirator markets are predicted to grow at CAGRs of 9.2%, 7.3% and 10.4%, respectively.
All global regions are expected to experience a 50% increase over the next decade in asthmatic disease cases. Children in countries with high pollution levels, such as China and India, are becoming increasingly susceptible to asthma and the disease remains one of the largest reasons for children's hospital visits.
The rapid increase in the number of new asthma cases globally, along with technological developments achieved through exploration of new surgical procedures, are fueling healthy market growth. Also, generic drugs and equipment will play an increasing role in the industry as U.S. patent expiry dates mature.
"Continued studies on asthmatic conditions remain prevalent at universities and companies, providing R&D for the continued assessment of the needs of asthmatic patients through continuous research into respiratory diseases," says BCC Research analyst Smruti Munshi. "Pricing, product development and product launch times continue to remain competitive factors that determine the growth of the asthmatic treatment device market."
Nebulizers, Inhalers and Respirators for Asthma Treatment: Global Markets (HLC177A) provides insights on the causes of asthma, as well as information about equipment used in the treatment of asthma. By examining the disease, examining trends, analyzing equipment and processes, the report forecasts trends and sales of asthma devices through 2019.
Editors and reporters who wish to speak with the analyst should contact Steven Cumming at steven.cumming@bccresearch.com.
About BCC Research
BCC Research publishes market research reports that make organizations worldwide more profitable with intelligence that drives smart business decisions. These reports cover today's major industrial and technology sectors, including emerging markets. For more than 40 years we've helped customers identify new market opportunities with accurate and reliable data and insight, including market sizing, forecasting, industry overviews, and identification of significant trends and key market participants. We partner with analysts who are experts in specific areas of industry and technology, providing unbiased measurements and assessments of global markets. Recently selected as the world's greatest market research company, BCC Research is a unit of Eli Global, LLC. Visit our website at http://www.bccresearch.com. Contact us: (+1) 781-489-7301 (U.S. Eastern Time), or email information@bccresearch.com.