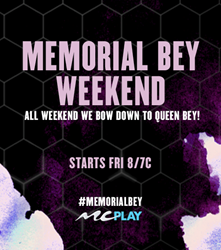 New York, NY (PRWEB) May 21, 2015
Music Choice is celebrating Queen Bey this Memorial Day Weekend with the premiere of the MC Docs show The BeyHive, taking viewers inside the world's most devoted fan base. Some of Beyoncé's most dedicated fans along with music industry tastemakers weigh in on why they believe she's the best in the game and share their favorite memories on a day that all lovers of Bey should be familiar with (2+2=4). Following The BeyHive, viewers can catch back to back episodes of Rate It: Best of Bey featuring a marathon of Beyoncé's biggest and best music videos.
Music Choice will premiere its MC Docs show entitled The BeyHive on its linear TV channel Music Choice Play nationally Friday, May 22 at 8pm ET/PT (check local listings). The show will be available on Music Choice Video On Demand and digital properties the next day directly following its initial broadcast on Music Choice Play.
To locate MC Play in your area check your local listing or to access MC On Demand> MC Originals
For more information about Music Choice log onto http://www.musicchoice.com
About Music Choice:
Music Choice, the multi-platform video and music network, delivers its music programming to millions of consumers nationwide through their televisions, online and mobile devices. Music Choice programs dozens of uninterrupted music channels; produces originals that feature today's hottest established and emerging artists; offers thousands of music videos; and launched Music Choice Play, the music video, lifestyle and entertainment network for Millennials. For additional information log on to http://www.MusicChoice.com | Twitter: @MusicChoice | Facebook: http://www.facebook.com/MusicChoice