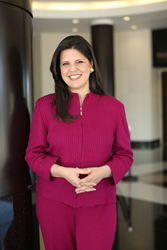 Miami, Florida (PRWEB) May 19, 2015
The MIAMI Association of REALTORS® (MIAMI), the nation's largest local Realtor association with 35,000 members, is pleased to announce its latest staff addition, Ana Maria Rodriguez as Vice President of Government Affairs.
Rodriguez is working with Senior Vice President of Government Affairs & Housing Danielle Blake to advocate for MIAMI members on Realtor issues in local governments and in the state Legislature.
Rodriguez is a seasoned professional with nearly 15 years of experience working in the governmental affairs arena in various roles. She is currently serving as a Councilwoman in the City of Doral, where she was elected in 2010, and subsequently re-elected in 2014. Her term ends in 2018.
Prior to her new role at MIAMI, Rodriguez served as Director of Government & Community Relations for Baptist Health South Florida from 2004-2010 where she led the organization's governmental and community outreach efforts. Prior to working with Baptist Health, she served as Senior Associate for Robert M. Levy & Associates in Tallahassee and Miami, representing a wide range of clients.
Rodriguez earned a bachelor degree from Florida International University in 1999 in Communications, and a Master Degree in Leadership from the H. Wayne Huizenga School of Business at Nova Southeastern University. She is a 2005 Graduate of Leadership Miami with the Greater Miami Chamber of Commerce. She can be reached via email at ana@miamire.com or at 305-468-7017.
About the MIAMI Association of REALTORS
The MIAMI Association of REALTORS was chartered by the National Association of Realtors in 1920 and is celebrating 95 years of service to Realtors, the buying and selling public, and the communities in South Florida. Comprised of five organizations, the Residential Association, the Realtors Commercial Alliance, the Broward County Board of Governors, the YPN Council and the award-winning International Council, it represents more than 35,000 real estate professionals in all aspects of real estate sales, marketing, and brokerage. It is the largest local Realtor association in the U.S., and has official partnerships with 125 international organizations worldwide. MIAMI's official website is http://www.miamire.com.
###