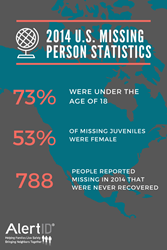 National Missing Children's Day is a great opportunity to talk to our children about their safety and to encourage families to take action and be prepared before an emergency happens
Washington, DC and Las Vegas, NV (PRWEB) May 19, 2015
The FBI's National Crime Information Center (NCIC) revealed that more than 450,000 children under the age of 18 were reported missing in 2014. To address this critical issue, the National Crime Prevention Council (Home to McGruff the Crime Dog®) AlertID are teaming up to raise awareness, offer innovative mobile technology and important safety tips to help keep children safe.
On May 25, 1979, 6-year-old Etan Patz (also known as the first missing child to appear on the side of a milk carton) disappeared from his New York City home on his way to school from the bus. The case received national attention and raised awareness about the importance of protecting our children. In response to the Patz case as well as other missing children cases, President Ronald Reagan, proclaimed May 25th as "National Missing Children's Day," which commemorates the commitment to help locate and recover missing children.
"Each of us needs to commit to helping locate and recover missing children or work as NCPC does to prevent children from going missing in the first place," said Ann M. Harkins, NCPC President and CEO. "National Missing Children's Day reminds parents, family members, teachers, caregivers, and our neighbors to make child safety a priority."
For AlertID founder, Keli Wilson, being prepared can make a critical difference in protecting children. "National Missing Children's Day is a great opportunity to talk to our children about their safety and to encourage families to take action and be prepared before an emergency happens."
The National Crime Prevention Council and AlertID have provided important prevention tips and resource information for protecting all family members below. For more information, please visit: http://www.alertid.com/search/crimes-against-children.asp.
9 Tips to Help Protect Your Children
1. Kids should know their full name, each parent's full name, address and phone number.
2. Point out unsafe places to play like intersections and discourage them from taking shortcuts.
3. Agree on a code word for emergencies that only trusted adults who knows the code word can pick up your child if necessary.
4. Accompany and supervise children in public facilities, including restrooms.
5. Use the buddy system for older kids, including designating a time and place to meet.
6. Remind children to remain in the area where they become separated, and teach them to dial 9-1-1 in emergencies.
7. Kids dressed in bright colors are easier to recognize if they get lost in a large crowd. Avoid clothing and toys with your child's name on it. A child may not fear someone who knows their name.
8. Teach your children not to accept rides and gifts from anyone – even people they might know.
9. If your child is grabbed by someone, team them to yell "This person is trying to take me!" or "This is not my mother/father!" and to resist by pulling or running away.
About AlertID
AlertID, the neighborhood safety network, is free to use and helps protect families and neighborhoods. AlertID's mission is to help people live safely by providing a secure way to receive trusted public safety alerts and share information with family members and neighbors. AlertID uses technology to help citizens and federal, state and local authorities share information about crime, sex offenders, natural disasters, missing children and severe weather that can threaten public safety. AlertID is accessible to members online as well as by email and mobile app. For more information visit http://www.AlertID.com
About The National Crime Prevention Council
The National Crime Prevention Council is the nonprofit leader in crime prevention. For more than 30 years, our symbol of safety, McGruff the Crime Dog®, has delivered easy-to-use crime prevention tips to millions of adults, teens, and children. Law enforcement agencies nationwide rely on our expertise to make an impact on personal safety and crime every day. For more information on how NCPC can be a public safety expert for you or how to "Take A Bite Out Of Crime®," visit http://www.ncpc.org.