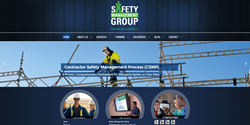 Safety Management Group is excited to have our new website up and believes that it fits the contemporary professional image that is possessed by both our associates and service offerings. Beyond informing a potential client about our company and services
Indianapolis, IN (PRWEB) May 27, 2015
The new website offers a clean, modern design, with easy navigation to safety management solutions created to address the most common safety issues faced by construction, health care, utility safety and manufacturing industries. It also provides effective resources for viewers and clients alike to signup with the company for services and training. Users can easily access instructor-led classes, online university and now mobile onsite training. The new mobile safety training trailer is one of a kind where the entire hands-on class is brought on-site for a truly hands-on training experience. Learn more about the unique training programs at: https://safetymanagementgroup.com/training/.
The design, navigation and mobile optimization ensures visitors can easily find and access extensive information about services and training saving them valuable time in a stress-free approach.
President Randy Gieseking commented, "Safety Management Group is excited to have our new website up and believes that it fits the contemporary professional image that is possessed by both our associates and service offerings. Beyond informing a potential client about our company and services, it also provides a wealth of safety related information that can be accessed by anyone who is interested in learning more about safety and our services".
The Safety Management Group website provides the latest industry news and resources such as an easy to use incident rate calculator, an injury cost calculator, useful links and workplace safety articles. Ron Hanson, VP of Operations stated "the new Safety Management Group website is replacing one that was created in 2002 and was instrumental in the growth of Safety Management Group over the years. During this period, our company has grown to the point that we have over 125 safety professionals on staff and routinely work in 30 states or more at a time. As national leader of safety staffing, safety consulting and safety training service throughout the Unites States, it is essential for us to have a solid website to serve our existing clients and promote our services to many other potential clients".
Those interested in learning more about Safety Management Group or effective consulting, staffing and training services can do so on the new company website at: https://safetymanagementgroup.com/