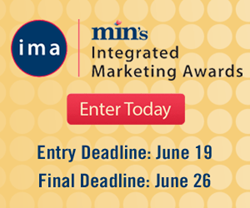 New York, NY (PRWEB) May 21, 2015
min's Integrated Marketing Awards program is dedicated to honoring the campaigns, ongoing programs and innovative people who've raised the bar on magazine marketing. The entry deadline for this prestigious awards program is June 19, 2015, with a final entry deadline of June 26, 2015. For more information on min's Integrated Marketing Awards program, visit http://www.minmarketingawards.com. The awards program is open to any consumer and b2b publishing company and/or person or individual magazine title. Additionally, advertising agencies and corporations are welcome to enter on behalf of or with their magazine partner. Third-party partners serving the industry may also enter.
Categories Include:
Campaign Categories

Best App Integration
Client Promotion Via Facebook
Contests/Sweepstakes
Custom Publishing Project
Customized Web Site/Microsite
Event
Lead Gen Initiative
Most Creative Use of New Technology
Multiple Magazine Title Program
New Event Program
Print/Mobile
Print/TV or Radio Bundle
Print/Video
Print/Web Bundle
Retail/Merchandising Tie-in
Social Media Initiative/s
Special Advertorial Section
Total Integrated Program
Total Integrated Program for Magazine Launch
Wow Award
People Categories – Marketing Masters
Marketer of the Year (VP level or above)
Marketer of the Year (Manager level)
Marketing Team of Year
Magazine/Client Team of the Year
Sweet 16 (Magazine publisher's best and most influential media buyers and brand marketers)
Winners and honorable mentions will be recognized at a celebratory awards breakfast in September 2015 in New York City, in min and on http://www.minonline.com. View the 2014 Integrated Marketing Awards winners and honorable mentions here. Entries for the 2015 program can be submitted online here: http://www.minmarketingawards.com. International entries are accepted. The entry deadline is June 19, 2015. For questions regarding the Integrated Marketing Awards, contact Allie DeNicuolo at allie(at)accessintel(dot)com or (301) 354-1810. To sponsor the awards breakfast in September, contact Tania Babiuk at tbabiuk(at)accessintel(dot)com.
The Integrated Marketing Awards program is presented by min, the industry's trusted source on the consumer and b2b magazine business, reaching thousands of media executives through print, online and in-person events. For more than 60 years, min has been serving the magazine and media community with unparalleled coverage of this ever-changing industry. For more information, visit minonline.com.