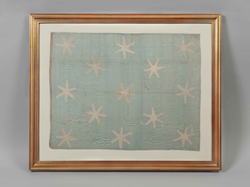 "Donated by descendants of Washington's sister, Betty Washington Lewis, this flag is one of the greatest treasures in our collection and was recently conserved through a grant from the Pennsylvania Society of Sons of the Revolution and its Color Guard."
WINTERTHUR, DELAWARE (PRWEB) May 21, 2015
Three extremely rare flags from the American Revolution, including the 13-star flag that accompanied General George Washington everywhere according to family tradition, will be on display June 14 at Winterthur with two additional standouts from the period: the 8th Virginia Regiment's Grand Division (or Muhlenberg) Flag and the Forster Flag. This unique one-day exhibition marks the first time these three historic banners for liberty, which are among only 35 from the Revolutionary War in existence, are being displayed together.
Dr. Scott Stephenson, Director of Collections and Interpretation at the Museum of the American Revolution in Philadelphia, the owner of the Commander-in-Chief Flag, will give a talk titled "Banners of Liberty: Three Flags of the American Revolution" from 12:15 - 1:15 pm in Winterthur's Copeland Lecture Hall. The talk will be followed by a special public viewing of the flags from 1:30 - 3:30 pm in the Rotunda.
For more information, please visit Winterthur.org or call 800.448.3883.