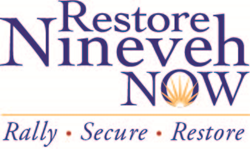 Unique among existing not for profit organizations, RNNF will be looking towards post-ISIS, reconstruction phase for Iraq and Syria
Los Angeles, CA (PRWEB) May 21, 2015
On Monday, May 18, 2015, the American Mesopotamian Organization (AMO) has launched the Restore Nineveh Now Foundation (RNNF) a 501 (c)3 with IRS tax number pending.
Founded by AMO, the Restore Nineveh Now Foundation will take over the work of the Restore Nineveh Now Initiative, with an expanded, threefold mission:
First, RNNF will continue to establish and support security forces like the Nineveh Plain Protection Units (NPU) in Northern Iraq and Syria. The peacekeeping mission of these units in the Nineveh Plain is essential to encouraging Assyrian and Yezidi IDPs to go back to their towns and villages.
Second, RNNF will advance the reconstruction process of the Nineveh Plain and surrounding areas in the post-ISIS era by focusing on the development of micro-industry and the securing of investment from both private and public sector organizations.
Third and finally, the RNNF will provide support to Assyrian families whose members have been killed or injured while confronting ISIS and other enemies of the Assyrian nation in the region. This "Fallen Fighters Fund" will be the first of its kind and will begin sending direct aid to these families by the summer of 2015.
"We are very pleased to have launched the RNNF," said Mr. David William Lazar, chairman of AMO and the executive director of Restore Nineveh Now.org Initiative.
"There has been an ongoing call for us to expand the work and impact of the Restore Nineveh Now Initiative, and our new 501(c) 3 structure will give us the flexibility and reach to respond to the growing numbers of people in Iraq and Syria who need our help," Mr. Lazar also said.
Unique among existing not for profit organizations, RNNF will be looking towards the post-ISIS, reconstruction phase for Iraq and Syria.
"We are confident that ISIS' days are numbered, and we are determined to get ahead of what is surely going to be an evolved and intense reconstruction phase for Iraq's ethnic and religious minorities," said Mr. Lazar.
Restore Nineveh Now Foundation can be found at the same web address as Restore Nineveh Now - restoreninevehnow.org.
About the American Mesopotamian Organization
The American Mesopotamian Organization believes that the Assyrian American community can be instrumental in bringing about change to US policy towards the Assyrians of the Middle East. We strive to be part of this change and part of the solution in defending Assyrian political and human rights throughout the Near East. While we will represent the collective Assyrian American viewpoint on matters of public policy, we will also serve as liaison between the community and their elected leaders. For more information, please visit http://www.americanmesopotamian.org.