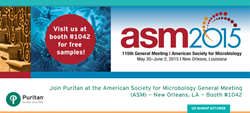 We love this event because there's always something new and exciting to learn.
Guilford, Maine (PRWEB) May 26, 2015
Puritan Medical Products, manufacturer of 100% American-Made swabs and single-use products, is excited to announce that they will be attending the 115th General Meeting of the American Society for Microbiology, an exhibit they have been attending for over 10 years. On May 30 - June 2 at the New Orleans Ernest N. Morial Convention Center, asm2015 will bring together thousands of the world's leading microbiologists for three days of study, discussion, and quality networking. The event will feature hundreds of exhibitor booths, demonstrations, lectures, and more.
In preparation for the show, the Puritan team has reviewed the event's abstract, choosing 5 features of the meeting which they feel will be most informative and valuable for their customers and industry. This "can't miss" roster serves as a helpful resource for those attending the event for the first time. Virginia Templet, Puritan's Director of Marketing, says, "We love this event because there's always something new and exciting to learn. This year's conference and expo will feature dozens of sessions on microbiology topics, including an opening session on "Who, What and Where in Microbial Relationships"."
Puritan Medical Products will be exhibiting at booth#1042, giving event attendees a look into their extensive product line and industry innovations. The booth will feature a high-impact demonstration of Puritan's flocked swabs and knowledgeable representatives who can answer questions and share product details. Event attendees will also have the opportunity to claim continuing education credits including California Clinical Laboratory Scientists, Florida Clinical Laboratory Personnel, and P.A.C.E.®, by interacting with exhibitors and answering selected Continuing Education (CE) Exhibit Hall Exam questions. Puritan's booth, #1042 will feature one such question, and those who can answer it will receive credit!
In addition to valuable information and Continuing Education credit, the Puritan booth will be handing out free product samples and other New Orleans themed giveaways. The Puritan team looks forward to the event and hopes it will be a valuable networking opportunity, as well as a chance to connect with customers, OEMs, and other industry professionals as it has been in past years. For more information about asm2015, including the full event roster, visit http://gm.asm.org/.