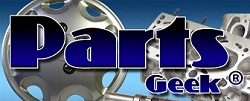 (PRWEB) May 28, 2015
On May 14, 2015, an article published on NYTimes.com indicated that Honda recalled almost 5 million vehicles due to a potentially dangerous issue with the Takata airbags. According to the article, Honda discovered that there was "confirmed irregular internal pressure" of the driver's side airbag inflaters. When Honda owners bring their vehicle to the dealership to have this issued remedied, there is also the chance that a technician may find other parts that need to be replaced or repaired. Before agreeing to schedule any future maintenance as well as paying full price for replacement Honda parts, one place drivers can turn to for cheaper replacement parts is PartsGeek.com. To ensure Honda owners get what they need to keep their vehicle in working order, Parts Geek is pleased to announce that they are now offering over 69,000 parts and accessories.
Currently, Parts Geek offers auto parts and accessories for 15 Honda models such as the Accord, Civic, Pilot, Passport, and Prelude. Auto parts and accessories the company has available includes AC evaporators, back up lights, tail light covers, window vent visors, mud flaps, wiper blades, and countless others that can be found listed on the Honda parts page of their website.
Parts Geek is dedicated to providing all of their customers with excellent services and high-quality products that are extremely affordable. Therefore, those who turn to the company to purchase replacement Honda parts will also find that they have a 4.9 out of 5 star rating, as well as thousands of reviews. A recent reviewer, who ordered an Action Crash brand tail light assembly, had this to say about his purchase: "I ordered a taillight for my Honda Pilot. It arrived in a timely manner and matched the other taillight perfectly. It was also the best price compared to other online stores. Couldn't be happier with this transaction. Thank you again."
To see Parts Geek's updated inventory of Honda auto parts and accessories, please visit their website today.
About Parts Geek:
Parts Geek offers an extensive line of auto parts, performance accessories, and part applications. While focusing on providing the largest supply of replacement parts, Parts Geek also provides the lowest prices on all new, OEM aftermarket and performance parts and accessories. Online, visitors will find an extensive catalogue of new and used parts for all domestic and imported cars and trucks. Since 1996, Parts Geek has been offering customers complete satisfaction with their high quality service. The company's main office is located in Marlton, New Jersey. The main office is open Monday through Friday, from 9 am to 6 pm, and Saturday from 9 am to 3 pm.
To hear more about the company, please visit http://www.partsgeek.com.