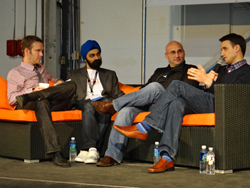 It's really the most controversial aspect of the local on demand revolution.
San Francisco, California (PRWEB) June 03, 2015
TalkLocal will be represented at the June 12th "Rise of the Local On-Demand Economy" BIA/Kelsey Now Conference. The day-long series of panel discussions and presentations will explore what it means for consumers, investors, innovators, and services providers when more and more services, like Uber and Handy, start to allow consumers to instantly book services online.
TalkLocal's co-founder Manpreet Singh, who recently spoke at SunTrust, CES International and The Pacific Crest Technology Summit, will join a BIA/Kelsey Now panel to discuss ideas for building a satisfied, digitally engaged on-demand workforce. The panel, entitled "LODE's Impact on Workforce Retention and Marketing", will feature Paul Zeckser of HomeAdvisor as host, as well as fellow panelists Doug Warner of Droptrip and Michael Yang of Comcast Ventures.
"It's really the most controversial aspect of the local on demand revolution," Manpreet Singh said of 1099 workforce development, explaining that the workers are the most vulnerable of any party involved in this industry because, as he put it, "the rest of us are gambling with money, the workers are gambling with their livelihoods and quality of life."
For Manpreet, the debate goes beyond ensuring that workers get a fair share of the revenue per gig and extends into scheduling, work-life balance and protecting a sense of personal autonomy. He also mentioned the need for practical human resources support services, such as discounted supplies, inventory help, administrative and accounting services. "Basically a supportive infrastructure built up around protecting these pros as much as possible from all the unpaid labor, overhead costs, and insecurities of being essentially self-employed," Manpreet added.
Despite the reality that market forces are "creating a push to lower prices even as competitive it pushes for competitive offers like money back guarantees and background checks of pros which put overhead costs on the rise", Manpreet warns that startups in the local on demand economy need to balance the needs of businesses and consumers and that it will alienate both if startups appear to "treat local service providers as cattle."
TalkLocal raised $4 million in venture funding, has served in 49 states and recently marked its one millionth service request call. It offers 50 service categories like roofing, accountants and heating & cooling.