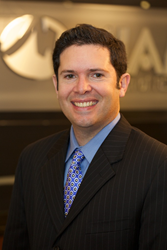 Miami, Florida (PRWEB) May 22, 2015
The MIAMI Association of REALTORS® (MIAMI), the nation's largest local Realtor association with 35,000 members, is pleased to announce its latest staff addition, Chris Umpierre as Writer and Social Media Specialist.
Umpierre is working with Senior Vice President of Public Relations & International Lynda Fernandez to write news releases and articles about one of the nation's most dynamic real estate markets. An international city with world-class amenities, Miami is a leading property market for foreign investment. Umpierre is also managing MIAMI's various social media accounts.
Umpierre comes to MIAMI with 13 years of journalism and professional writing experience. He wrote for The News-Press in Fort Myers, Fla. from 2002 through January 2015. He covered Southwest Florida real estate, city news, sports, and myriad other topics during his tenure at the 100,000-circulation Gannett newspaper.
Umpierre earned bachelor degrees in history and political science from the University of California, Los Angeles in 2001. He can be reached via email at chris(at)miamire(dot)com or at 305-468-7047.
About the MIAMI Association of REALTORS
The MIAMI Association of REALTORS was chartered by the National Association of Realtors in 1920 and is celebrating 95 years of service to Realtors, the buying and selling public, and the communities in South Florida. Comprised of five organizations, the Residential Association, the Realtors Commercial Alliance, the Broward County Board of Governors, the YPN Council and the award-winning International Council, it represents more than 35,000 real estate professionals in all aspects of real estate sales, marketing, and brokerage. It is the largest local Realtor association in the U.S., and has official partnerships with 125 international organizations worldwide. MIAMI's official website is http://www.miamire.com.
###