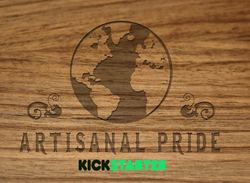 Artisanal Pride
Buenos Aires, Argentina (PRWEB) May 22, 2015
Artisanal Pride will be launching its first Kickstarter Campaign with the goal to bring Artisans from around the world together and showcase their unique work, starting with Argentina!
Artisanal Pride's mission is to connect local artisans with distant communities through a web portal where each country is represented and people from across the world can learn more about their culture, as well as purchase these artisans' products. Artisanal Pride has teamed up with these Artisan's to design their own project related rewards for their upcoming campaign. First in line to unveil their local artisanal products is Argentina with their traditional Mates, Gaucho (steak) knives, and Aguayos.
By pledging to Artisanal Pride's Kickstarter Campaign, you are helping a country's local artisans reach a whole new market, and simultaneously helping a country teach the international community about their culture and customs. Choosing to back this project gives you the power to decide the next country added to ArtisanalPride.com, and bring our unique world with exceptional cultures into the hands of everyone.
Visit their website at http://www.artisanalpride.com to learn more and sign up for their newsletter to receive updates as well as the launch date.