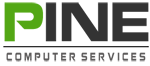 We think our new website goes above and beyond to get this message across to our clients.
South Burlington, Vermont (PRWEB) June 03, 2015
Pine Computer Services, a provider of managed IT and computer repair services to local businesses throughout the Chittenden County, Vermont area, today announced that it is looking to better educate its clientele with a new website that clearly outlines and explains the benefits of managed cloud services and IT business solutions. The company is also using the new site to tout its residential hardware, software and Mac computer repairs.
Pinecomputers.net is a site that boasts an improved layout and easier navigation. The new product and service information is delivered in a more appealing way so visitors can best understand the benefits of IT outsourcing, business IT support and residential computer repairs.
"Our managed IT services are built on the principles that people should be able to have their technology problems fixed by a company they can trust is giving them the best, most fair service available," said Tim Parrow, President, Pine Computers. "We think our new website goes above and beyond to get this message across to our clients."
Pine Computer is targeting small and medium businesses seeking managed IT support, workflow solutions and computer repairs throughout southern Vermont. The firm is currently offering businesses managed IT services, along with data backup, network and server solutions, PC and Mac computer services, VoIP phone solutions, disaster recovery and managed cloud services.
About Pine Computer Services
Pine Computer Services, founded in 2001, is a managed IT service provider [MSP] that offers premium IT support, consulting and business solutions to small and medium businesses throughout Chittenden County, Vermont and surrounding areas. Some of the company's most popular business solutions include residential computer repairs and managed cloud services, including software workflow, IT consulting, data backup and disaster recovery. The company attributes its long-time success and growth to a reputation built by doing right by others. For more information about Pine Computer and its IT business solutions, visit the company on the web at pinecomputers.net. To learn more now, call 802.487.9051. Also, to get the latest industry news and trends, go to pinecomputers.net/about-us/blog/. Like us at facebook.com/pinecomputers; follow us at twitter.com/pinecomputers; and connect with us at linkedin.com/company/pine-computers.